OFFICE OF THE UNITED STATES ATTORNEY
NORTHERN DISTRICT OF WEST VIRGINIA
William J. Ihlenfeld, II
UNITED STATES ATTORNEY
1125 Chapline Street, Federal Building, Suite 3000 ● Wheeling, WV 26003
(304) 234-0100 ● Contact: Chris Zumpetta-Parr, Public Affairs Specialist
FOR IMMEDIATE RELEASE
April 18, 2012
Synthetic Drug Supplier Shut Down
by Feds, Task Force
CLARKSBURG, WEST VIRGINIA — A major supplier of synthetic drugs in North Central West Virginia has been indicted on drug trafficking charges and his businesses have been shut down by a federal judge.
United States Attorney William J. Ihlenfeld, II, announced today that Jeffrey J. Paglia, owner of the Hot Stuff Cool Things store in the Rosebud Plaza, was indicted yesterday in Elkins on multiple charges of drug trafficking, maintaining a drug-involved premise, and the structuring of monetary deposits. Paglia, 48 years old of Clarksburg, was arrested this morning and made an initial appearance today before Magistrate Judge John S. Kaull.
In order to prevent the enterprise from continuing to operate the U.S. Attorney's Office obtained an order from Chief Federal Judge John Preston Bailey today granting injunctive relief and requiring that Paglia's stores in Clarksburg and Buckhannon be shut down until further order of the court.

In addition to Paglia, three other individuals and two corporations were named in the eleven count indictment, as follows: John N. Skruck, 56, of Clarksburg; Jeremia J. Phillips, 30, of Clarksburg; Derrick L. Calip, 40 of Clarksburg; Jemrose, Inc., d.b.a. "Hot Stuff and Cool Things", of 603 Rosebud Plaza, Clarksburg, WV 26301; and Pag-Corp, Inc., of 603 Rosebud Plaza, Clarksburg, WV 26301. Skruck, Phillips and Calip were arrested and also appeared before Magistrate Judge Kaull.

"Synthetic drugs have quickly become a major problem in West Virginia and we're fighting back," said U.S. Attorney Ihlenfeld. "The indictment and the closure of these stores today should send a strong message that the federal government is cracking down on the sale of 'bath salts' and synthetic cannabis and that the sale of this poison will not be tolerated," said Ihlenfeld.
Paglia, Skruck, Phillips and Calip are each charged with the conspiracy to distribute Schedule I Controlled Substances and Schedule I Controlled Substance analogues, referred to as "bath salts" in the indictment. They are also charged with the sale of "bath salts" on multiple occasions between September of 2011 and January of 2012, and with maintaining drug involved Synthetic Supplier Shut Down

premises at the "Hot Stuff" store in the Rosebud Plaza and at a storage building located in Stonewood, West Virginia.

Paglia and Jemrose, Inc. also face a charge of illegally structuring monetary transactions. It's alleged that Paglia made bank deposits totaling $747,430 over a six month period in 2011 that were structured to evade federal reporting requirements.
"Most people don't realize that some of the businesses that engage in the sale of these substances are generating millions of dollars in revenues," said Ihlenfeld. "These ventures can be very profitable for the individual owners and at the same time be very taxing on the communities in which they operate."
The closing of the store in Clarksburg means that the major source of supply of "bath salts" for the area has been cut off and many people may begin to suffer from the effects of withdrawal. To try and address this issue the U.S. Attorney's office has reached out to and confirmed that United Summit Center/United Hospital Center (telephone number 304/623-5661) and the Valley Health Care System (304/366-7174) will accept anyone, regardless of ability to pay, who needs assistance in dealing with withdrawal symptoms related to the use of synthetic drugs.
In the indictment the United States also seeks to forfeit eleven parcels of real property, the contents of eight bank accounts, three motor vehicles, one Bobcat front-end loader, and the contents of various safety deposit boxes. The United States is also seeking a judgment against the defendants in the amount of $2,560,320.
Agents seized approximately $750,000 in cash and bank accounts today as part of the search and seizure operation.
The investigation into Paglia's enterprise began in 2011 and was spearheaded by the Harrison County Drug and Violent Crimes Task Force and the Drug Enforcement Administration. The Three Rivers Drug Task Force provided support for the drug investigation, and agents from the Internal Revenue Service-Criminal Investigations office led the financial investigation. Asset forfeiture specialists from the United States Attorney's Office in Wheeling made significant contributions to the financial inquiry.

The search and seizure operation today involved approximately 70 local, state and federal agents who spread out across Harrison and Upshur Counties to execute warrants at multiple locations. Places searched include the Hot Stuff Cool Things store located at 603 Rosebud Plaza in Clarksburg, the Hot Stuff sister store in Buckhannon, West Virginia, the Clarksburg home of Jeffrey Paglia, the Clarksburg home of John Skruck, and a storage unit in Harrison County which is believed to have held inventory for the stores. Vehicles used by the defendants were also searched and seized today.
All of those charged in this matter are presumed innocent until and unless proven guilty. The case will be prosecuted by Assistant United States Attorney Robert H. McWilliams, Jr.
WV Public Corruption
Hotline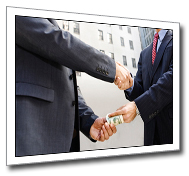 Call 1-855-WVA-FEDS or Email wvafeds@usdoj.gov if you have information about public corruption in your community.