OFFICE OF THE UNITED STATES ATTORNEY
NORTHERN DISTRICT OF WEST VIRGINIA
William J. Ihlenfeld, II
UNITED STATES ATTORNEY
1125 Chapline Street, Federal Building, Suite 3000 ● Wheeling, WV 26003
(304) 234-0100 ● Contact: Chris Zumpetta-Parr, Public Affairs Specialist
FOR IMMEDIATE RELEASE
April 19, 2012

United States Attorney Redoubles Efforts to
Combat Public Corruption
WHEELING, WEST VIRGINIA - United States Attorney William J. Ihlenfeld, II, announced today that he will be taking a new, more aggressive approach to the investigation of public corruption in West Virginia and he is encouraging citizens to join the fight.
Officials from the State Police, the F.B.I., and the I.R.S. stood with Ihlenfeld as he announced a major push by his office to identify, investigate, and prosecute matters of public corruption occurring throughout the state. Because these cases are often started by concerned citizens with anonymous tips a new hotline and email address have been created for the public to submit leads to the U.S. Attorney's Office by telephone or via the internet. Tips can now be submitted by calling toll-free to 1-855-WVA-FEDS (855-982-3337) or by sending an email to wvafeds@usdoj.gov.
Ihlenfeld recently completed a significant restructuring of the criminal division in his office in order to form a public corruption unit to handle the cases that will now be the top criminal priority in the district.
"Corruption by our elected and appointed officials undermines the public trust and causes our citizens to lose faith in their government. A breach of trust by a local, state or federal official has no place in public service, and so we are redoubling our efforts to bring to justice those who engage in this type of activity," said Ihlenfeld.
Captain James Merrill and Captain Donnie Howell of the West Virginia State Police, Senior Supervisory Agent John Hambrick of the Federal Bureau of Investigation, and Special Agent Andrew T. Hromoko, Jr. of the Internal Revenue Service-Criminal Investigations joined Ihlenfeld as he laid out other steps that have been taken to implement his plan.
Assistant United States Attorney John C. Parr, who has been selected by Ihlenfeld to lead the new unit, also participated in the announcement.
U.S. Attorney to Focus on Public Corruption

Ihlenfeld and Parr recently met with the State Police, the F.B.I. and the I.R.S., as well as Secretary of State Natalie Tennant, Theresa Kirk, Director of the West Virginia Ethics Commission, and agents with the West Virginia Commission on Special Investigations to arrange partnerships and to discuss the sharing of information and resources.
It is anticipated that the new public corruption unit will spend the majority of its time on cases involving government officials who use their office for personal gain. It is a violation of federal law for any federal, state, or local government official to ask for or receive anything of value in exchange for, or because of, any official act. Under federal law, any person who offers or pays a bribe is also guilty. In addition to bribes and kickbacks, other types of corruption that are commonly seen include extortion, embezzlement, racketeering, money laundering, as well as wire, mail, bank, and tax fraud.
Misuse of federal grant monies and public education funds are also expected to keep the new unit busy.
According to Ihlenfeld, sophisticated tools and methods will be used to investigate these cases, including electronic surveillance, confidential sources, and undercover agents.
"Fortunately most of our officials are honest and hard working and have the public's best interests in mind. But there's a long history of corruption in our state, and there are always a handful of people who are in it to help themselves or their friends and families, and we are prepared to hold them accountable," said Ihlenfeld.
Ihlenfeld says that the hotline will play a critical role in this new program.
"We have many great partners in this initiative but the most valuable partner will be the public. Every tip we receive will be reviewed and given the attention that it deserves. Because of the secretive nature of bribes and kickbacks they are often difficult to detect without the help of concerned citizens, and that's why we have created the new hotline and email address," said Ihlenfeld.
WV Public Corruption
Hotline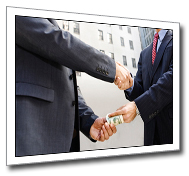 Call 1-855-WVA-FEDS or Email wvafeds@usdoj.gov if you have information about public corruption in your community.