OFFICE OF THE UNITED STATES ATTORNEY
NORTHERN DISTRICT OF WEST VIRGINIA
William J. Ihlenfeld, II
UNITED STATES ATTORNEY
1125 Chapline Street, Federal Building, Suite 3000 ● Wheeling, WV 26003
(304) 234-0100 ● Contact: Chris Zumpetta-Parr, Public Affairs Specialist

WWW.JUSTICE.GOV/USAO/WVN
December 6, 2012
FOR IMMEDIATE RELEASE
UNITED STATES ATTORNEY'S OFFICE COLLECTS OVER $6.5 MILLION IN 2012
Amount includes both Criminal and Civil Collections
WHEELING, WEST VIRGINIA – United States Attorney William J. Ihlenfeld, II, announced today that his office collected more than $6.5 million dollars in Fiscal Year 2012 as a result of criminal and civil actions handled during that time period.

The total amount collected by the U.S. Attorney's Office for the Northern District of West Virginia in 2012 was $6,504,929, of which $4,065,351 came from civil actions, $633,918 came from criminal actions, and $1,805,659.46 came from civil and criminal forfeitures.

"My office has many talented and hard working people who work every day to recover funds for victims of crimes and for the federal treasury," said U.S. Attorney Ihlenfeld. "We'll continue to be aggressive in 2013 in holding those who violate the law accountable for their actions."

Some of the largest collections in Northern West Virginia came from cases against health care providers that violated federal law, including a payment of over $2 million dollars by Monongalia Health System, Inc. of Morgantown for submitting fraudulent claims to Medicare and Medicaid.
A separate civil case saw the Mathias-Baker Emergency Medical Squad of Hardy County pay just over $1 million for making false claims to Medicare and Medicaid.
In another significant civil case, the Ohio Valley Health Education & Services Corporation
(OVHS&E), Ohio Valley Medical Center (OVMC), and East Ohio Regional Hospital (EORH) paid
$660,000 in FY 2012 and these entities still owe nearly $2.4 million dollars to the federal government for violations of the Stark Act and improper compensation arrangements with physicians.

Large criminal collections from FY 2012 include:
- $173,072 paid by Mark Matucci in connection with his conviction for "Filing a False 941
Tax Return";
- $160,163 forfeited by Kevin Ireland as a result of his conviction for "Manufacturing of
Marijuana";
- $153,908 forfeited by Ryan Rieger as a result of his conviction for "Conspiracy to
Distribute Marijuana"; and
- $78,185 paid by Shaney Lilley as a result of her conviction for "Bank Embezzlement."
U.S. Attorneys' Offices throughout the country are responsible for enforcing and collecting civil and criminal debts owed to the U.S. and criminal debts owed to federal crime victims. The law requires defendants to pay restitution to victims of certain federal crimes who have suffered a physical injury or financial loss. While restitution is paid directly to the victim, criminal fines and felony assessments are paid to the department's Crime Victims' Fund, which distributes the funds to state victim compensation and victim assistance programs.
Nationwide, the U.S. Attorneys' offices collected $13.1 billion in criminal and civil actions during FY 2012, more than doubling the $6.5 billion that was collected in FY 2011. A portion of this amount, $5.3 billion, was collected in shared cases in which one or more U.S. Attorneys' offices or department litigating divisions were also involved. The $13.1 billion represents more than six times the appropriated budget for the United States Attorney community.
WV Public Corruption
Hotline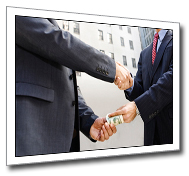 Call 1-855-WVA-FEDS or Email wvafeds@usdoj.gov if you have information about public corruption in your community.