OFFICE OF THE UNITED STATES ATTORNEY
NORTHERN DISTRICT OF WEST VIRGINIA
William J. Ihlenfeld, II
UNITED STATES ATTORNEY
1125 Chapline Street, Federal Building, Suite 3000 ● Wheeling, WV 26003
(304) 234-0100 ● Contact: Fawn E. Thomas, Public Affairs Specialist
March 29, 2012
FOR IMMEDIATE RELEASE

Morgantown Health Care Providers pay $2.25 Million
for False Claims, Substandard Care

WHEELING, WEST VIRGINIA — United States Attorney William J. Ihlenfeld, II, announced that Monongalia Health System, Inc. and Morgantown Health Care Corporation, which formerly operated MonPointe Continuing Care Center, have paid $2.25 million to the United States to settle allegations that MonPointe submitted fraudulent claims to Medicare and Medicaid from September 1, 2006 through May 31, 2007, in violation of the Federal False Claims Act. The agreement ends an investigation of allegations that claims for reimbursement were submitted for substandard care of skilled nursing facility patients as a result of inadequate staffing.
"Insufficient staffing at the MonPointe skilled nursing facility led to substandard care and harm to dependent patients, and thus the settlement amount is significant. Medicare and Medicaid expect that providers who submit claims for skilled nursing care services have rendered acceptable nursing care to patients. When inadequate staffing leads to substandard care, claims for reimbursement are illegitimate and false," said U.S. Attorney Ihlenfeld.
The Federal investigation arose after State inspectors discovered problems at MonPointe and temporarily closed the facility. Monongalia Health System, Inc. and Morgantown Health Care Corporation were cooperative during the investigation.
"Inadequate staffing and substandard care affect patient well being and for this reason we encourage anyone who has knowledge of such conditions in a skilled nursing facility or nursing home to report it," said Ihlenfeld.
"The Office of Inspector General is committed to ensuring that our beneficiaries receive the high quality medical care that they deserve," said Maureen Dixon, Assistant Special Agent in Charge for the Inspector General's Office of the United States Department of Health and Human Services in Philadelphia. "HHS-OIG will continue to work vigorously with the Department of Justice to investigate any allegations of substandard care."
The False Claims Act is a federal law that allows the government to sue health care providers who submit false or fraudulent claims to federal health care programs, such as Medicare or Medicaid. False claims submitted by medical providers cost federal health care programs billions of dollars each year.
Monongalia Health System, Inc. is a West Virginia corporation that sponsored, oversaw and controlled Morgantown Health Care Corporation, a West Virginia corporation. Morgantown Health Care Corporation formerly did business as MonPointe Continuing Care Center.
This matter was handled by Assistant United States Attorney Alan G. McGongial, in coordination with the United States Department of Health and Human Services, Office of Inspector General and the West Virginia Medicaid Fraud Control Unit.

WV Public Corruption
Hotline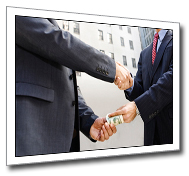 Call 1-855-WVA-FEDS or Email wvafeds@usdoj.gov if you have information about public corruption in your community.