OFFICE OF THE UNITED STATES ATTORNEY
NORTHERN DISTRICT OF WEST VIRGINIA
William J. Ihlenfeld, II
UNITED STATES ATTORNEY
1125 Chapline Street, Federal Building, Suite 3000 ● Wheeling, WV 26003
(304) 234-0100 ● Contact: Chris Zumpetta-Parr, Public Affairs Specialist

WWW.JUSTICE.GOV/USAO/WVN
November 21, 2012
FOR IMMEDIATE RELEASE

West Virginia Doctor Pleads Guilty to
Health Care Fraud & Tax Evasion
Doctor will forfeit $3.7 million to Federal Government
WHEELING, WEST VIRGINIA — A 61-year old Parkersburg, West Virginia, doctor has entered pleas of guilty to Health Care Fraud and Tax Evasion in United States District Court in Wheeling before Chief Judge John Preston Bailey.
United States Attorney William J. Ihlenfeld, II, announced that BARTON JOSEPH ADAMS, a Doctor of Osteopathic Medicine who owned and operated the Interventional Pain Management medical office in Vienna, West Virginia, admitted to willfully attempting to evade taxes in the amount of $528,579. DR. ADAMS also admitted to making a fraudulent claim for health care proceeds in the amount of $34,314.86. As part of his plea agreement, DR. ADAMS agreed to the forfeiture of $3,724,721 and to file tax returns or amended tax returns for calendar years 2004 through 2009 and further to cooperate with representatives of the Internal Revenue Service to reconstruct all taxes due and owing by him.
DR. ADAMS, who is in custody pending sentencing, faces up to 15 years imprisonment and a $350,000 fine in addition to the forfeiture. A sentencing hearing will be scheduled by Judge Bailey as soon as a pre-sentence investigation report is completed by the United States Probation Office.
"Dr. Adams stole nearly four million dollars from American taxpayers and then schemed with his wife to hide the money in bank accounts around the world," said U.S. Attorney Ihlenfeld. "He used the money that he stole to live a luxurious lifestyle, taking fancy trips and staying in high- end hotels, and he had plans to retire overseas until the whole scheme collapsed. I commend the I.R.S. agents for all of the hard work that they have done, and continue to do, as the investigation is ongoing."
JOSEPHINE ADAMS, the wife of DR. ADAMS, went to trial last year and was convicted by a jury of assisting her husband in the laundering of nearly $4 million dollars of health care fraud proceeds. The evidence presented showed that the fraud proceeds were first deposited into accounts in West Virginia and then were moved into accounts around the United States before being placed

into foreign bank accounts in Canada, China, and the Philippines. JOSEPHINE ADAMS was shown to have opened accounts in those countries, and also to have opened a shell corporation in the British Virgin Islands in an attempt to hide the money. Large wire transfers were made from accounts controlled by DR. ADAMS to accounts that JOSEPHINE ADAMS controlled, many of which were with global banking giant HSBC Bank. A separate investigation into the failures of HSBC and its anti-money laundering controls has been ongoing for several years and the ADAMS case was referenced in a July 2012 report issued by the United States Senate's Permanent Subcommittee on Investigations.
JOSEPHINE ADAMS has not yet been sentenced and faces up to 20 years in prison on each of her convictions for obstructing an official investigation, up to 10 years for each conviction of obstructing a judicial proceeding, and up to 5 years for each of the conspiracy convictions. She also faces a fine of $250,000 on each conviction.
The case was prosecuted by United States Attorney Ihlenfeld, Assistant United States Attorney Michael D. Stein, and Assistant United States Attorney Alan McGonigal. It was investigated by the Internal Revenue Service-Criminal Investigation Division and the Office of Inspector General-Department of Health and Human Services.
WV Public Corruption
Hotline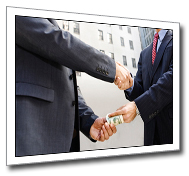 Call 1-855-WVA-FEDS or Email wvafeds@usdoj.gov if you have information about public corruption in your community.