OFFICE OF THE UNITED STATES ATTORNEY
NORTHERN DISTRICT OF WEST VIRGINIA
William J. Ihlenfeld, II
UNITED STATES ATTORNEY
1125 Chapline Street, Federal Building, Suite 3000 ● Wheeling, WV 26003
(304) 234-0100 ● Contact: Chris Zumpetta-Parr, Public Affairs Specialist

WWW.JUSTICE.GOV/USAO/WVN
FOR IMMEDIATE RELEASE November 27, 2012
Three Individuals in Synthetic Drug Investigation
Enter Pleas of Guilty
CLARKSBURG, WEST VIRGINIA — Three Clarksburg residents involved in a major synthetic drug investigation in North Central West Virginia entered pleas of guilty in November, in United States District Court in Clarksburg before Magistrate Judge John S. Kull.
United States Attorney William J. Ihlenfeld, II, announced that:
JEFFREY L. PAGLIA, age 48, JEREMIA J. PHILLIPS, age 30, of and DERRICK L. CALIP, age 40, of Clarksburg entered pleas of guilty to Conspiracy to Distribute Schedule I Controlled Substances and Schedule I Controlled Substance Analogues, referred to as "bath salts" from September 7, 2011, to April 17, 2012, in Harrison County.
PAGLIA, was the owner and primary operator of Jemrose, Inc., a West Virginia corporation, which did business as "Hot Stuff and Cool Things" in Clarksburg and Buckhannon, West Virginia, at which PHILLIPS and CALIP worked. Testimony offered by a Harrison County Drug Task Force Officer regarding the investigation of "Hot Stuff and Cool Things" revealed that law enforcement had received numerous complaints about individuals purchasing bath salts at the store and the effects of the bath salts on individuals, including extreme paranoia, psychosis, and in the use of IV use, irrational behavior even including suicide. Officers surveilling the store observed that it opened at 10:00 am and before the store opened, there would be a line of 8 to 20 people waiting outside. Controlled purchases of bath salts were made, which sold for $49.00 for one gram and $29.99 for one-half gram. Officers witnessed individuals injecting the bath, including one individual who injected bath salts and then proceeded to repeatedly bash his face on the car's steering wheel. At the time of the arrest of the defendants in April of 2012, approximately 17,000 packages of bath salts were seized.
PAGLIA also entered a plea of guilty to Structuring Monetary Transactions to Evade Reporting Requirement. Testimony offered from an IRS Special Agent stated that banks are required to file currency transfer reports (CTR) for any cash deposits of $10,000 or more. It is a crime to structure deposits in a way to avoid the report. The investigation revealed that PAGLIA and Jemrose, Inc., his company, were structuring deposits to avoid the CTR from February to August of 2011, at JP Morgan Chase Bank in Harrison County, West Virginia. The investigation revealed over $740,000 in deposits during that period. On February 18,
2011, a deposit of over $10,000 was made, pursuant to which the bank filed a CTR. Subsequently, all deposits were structure do avoid the CTR. Evidence included two deposits made on March 8, 2011, each for $9,000, two on March 9, 2011, each for $9,000, and two on March 17, 2011, one for $9,000 and one for $9,500.
PAGLIA, who is free on bond pending sentencing, faces up to 30 years imprisonment and a $1,500,000 fine.
PHILLIPS and CALIP, who are free on bond pending sentencing, face up to 20 years imprisonment and a $1,000,000 fine.
The case was prosecuted by Assistant United States Attorney Robert H. McWilliams, Jr. and investigated by the Harrison County Drug and Violent Crimes Task Force and the Drug Enforcement Administration, the Three Rivers Drug Task Force and the Internal Revenue Service-Criminal Investigations.
WV Public Corruption
Hotline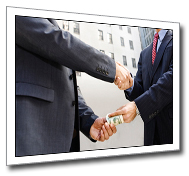 Call 1-855-WVA-FEDS or Email wvafeds@usdoj.gov if you have information about public corruption in your community.