OFFICE OF THE UNITED STATES ATTORNEY
NORTHERN DISTRICT OF WEST VIRGINIA
William J. Ihlenfeld, II
UNITED STATES ATTORNEY
1125 Chapline Street, Federal Building, Suite 3000 ● Wheeling, WV 26003
(304) 234-0100 ● Contact: Chris Zumpetta-Parr, Public Affairs Specialist

WWW.JUSTICE.GOV/USAO/WVN
October 15, 2012
FOR IMMEDIATE RELEASE

Fifty-Two Convicted on Drug and Gun Charges in
"Operation Blue Haze"

Twenty-One Firearms, $100K worth of Drugs Recovered
FAIRMONT, WEST VIRGINIA - One of the largest investigations ever conducted in North
Central West Virginia has resulted in the conviction of 52 people on weapons and drug-trafficking charges.

U.S. Attorney William Ihlenfeld, II, announced on Monday that all of the cases from the massive May 2012 federal indictment had been resolved by in either federal court or state court. A Clarksburg Federal Grand Jury indicted fifty-three people in the spring and since that time the cases have been working their way through the court system. Fifty-one of those indicted pleaded guilty in federal court and one has pleaded guilty in state court.

"Cases of this magnitude can have a long term impact on community, and I believe that the neighborhoods of Fairmont are safer because of the hard work of the officers and agents in this case," said U.S. Attorney Ihlenfeld. "As a direct result of this investigation some very dangerous people have been removed from our streets and it's due to the tremendous efforts of the ATF and the Fairmont Police Department."

The case involved sophisticated undercover tactics and resulted in the recovery of of twenty- one firearms and over $100,000 worth of illegal drugs. This investigation, known as "Operation Blue Haze," targeted street-level, mid-level and upper-level drug dealers in Marion County. The case yielded pistols, revolvers, various rounds of ammunition, a ballistics vest, crack cocaine, powder cocaine, marijuana, and various types of prescription pills.
Three of the people convicted have been sentenced while the remaining defendants are scheduled for sentencing in the next several months. One of the cases was dismissed post-conviction due to the health of the defendant. That defendant has since passed away.

"This historic investigation conducted by the Bureau of Alcohol, Tobacco, Firearms and Explosives (ATF) and the Fairmont Police Department highlights the incredible results that can be achieved by collaboratively addressing societal concerns that plague our communities," said Dewayne Haddix, Resident Agent in Charge of the ATF. "Working together, we were able to curtail the transfer of firearms to individuals who intend to commit criminal acts and the flow of illegal drugs into Marion County, as well as North Central West Virginia."

Fairmont Police Chief Kelley Moran commented that the case "is an example of how law enforcement agencies working together can make the community safer."

The case was investigated by the Bureau of Alcohol, Tobacco, Firearms and Explosives and the Fairmont Police Department, including officers assigned to the Three Rivers Drug Task Force. Support for the case was provided by the Drug Enforcement Administration. The cases were prosecuted by Assistant United States Attorneys Zelda Wesley and Shawn A. Morgan.
WV Public Corruption
Hotline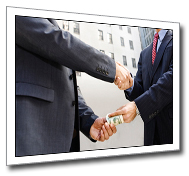 Call 1-855-WVA-FEDS or Email wvafeds@usdoj.gov if you have information about public corruption in your community.