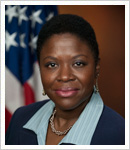 J. Patricia Wilson Smoot was nominated to the United States Parole Commission by President Barack Obama. Commissioner Smoot was confirmed by the United States Senate on September 16, 2010.
Before her appointment, Commissioner Smoot served as Deputy State's Attorney for Prince George's County, Maryland, one of the largest prosecutor's offices in the State of Maryland. She was appointed to the position in 2002. As part of her duties, Ms. Smoot oversaw the Sex Offense and Child Abuse Unit, the Domestic Violence Unit, the Juvenile Division, and the District Court Division, while serving as an advisor to the State's Attorney, Glenn F. Ivey.
From 1994 to 2002, Commissioner Smoot served as an Assistant United States Attorney in the District of Columbia. She served, with distinction, as a trial attorney and received both the Department of Justice Special Achievement and the Victims of Crime Awards during that time. Commissioner Smoot served a number of management roles while in the United States Attorney's office; including, Director of Professional Development, where she was responsible for attorney movement and management of the training programs for the 700-person office.
Commissioner Smoot also served as a Public Defender in Prince George's County, Maryland, as an associate in a tort defense litigation firm and as a Judicial Law Clerk for the Honorable Susan R. Holmes Winfield in the Superior Court for the District of Columbia.
Commissioner Smoot has served on a number of boards and committees including the National Black Prosecutors Association, National African American Drug Policy Coalition, Maryland Coalition Against Sexual Abuse, Prince George's County Criminal Coordination Council, and the Prince George's County Domestic Fatality Review Team. In early 2010, Maryland Governor Martin O' Malley appointed Commissioner Smoot to the Sex Offender Advisory Board. As a result of her work in and outside of the office, Commissioner Smoot was named one of Maryland's Top 100 Women by the Daily Record in 2008.
Commissioner Smoot holds a B.A. in English and Sociology with a concentration in Legal Studies from Bucknell University and a J.D. from Columbus School of Law, Catholic University of America.