OFFICE OF INTELLIGENCE POLICY AND REVIEW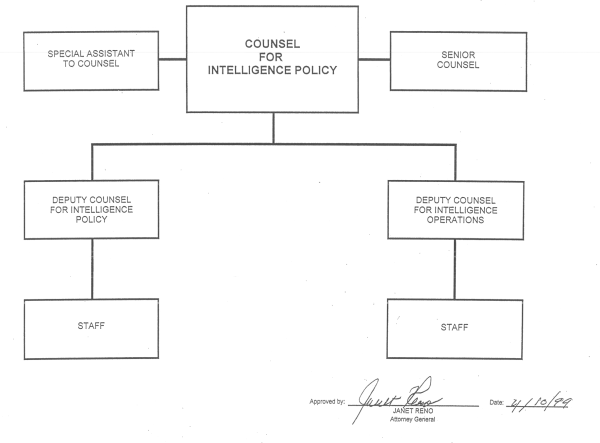 d
The Office of Intelligence Policy and Review (OIPR) was created by Attorney General Order No. 875-80, 28 C.F.R., Part O, Subpart F-1, which was approved by Attorney General Civiletti in 1980.
The mission of OIPR is to assist the Attorney General and other senior Justice Department officials in fulfilling national security-related responsibilities; to provide legal advice and guidance to various elements of the United States Government that are engaged in national security-related activities; and to oversee the implementation of the Foreign Intelligence Surveillance Act and other statutory, Executive Order, or Attorney General-based authorities for national security-related activities.
The major functions of OIPR are to:
Advise and assist the Attorney General in carrying out his/her responsibilities under Executive Order No. 12333, "United States Intelligence Activities."
Serve as the Department representative on interdepartmental boards, committees and other groups dealing with national security-related matters.
Participate in the development, implementation and review of United States intelligence policies, including procedures for the conduct of intelligence and counterintelligence activities.
Evaluate existing and proposed national security-related activities to determine their consistency with relevant policies and law.
Formulate policy alternatives and recommend action by the Department and other executive agencies in achieving lawful United States intelligence and counterintelligence objectives.
Draft, analyze and interpret current statutes, Executive Orders, guidelines, and other directives pertaining to national security-related activities.
Review and comment upon proposed statutes, guidelines, and other directives with regard to intelligence activities; and, in conjunction with the Office of Legal Counsel, review and comment upon the form and legality of proposed Executive Orders that relate to the functions of this Office.
Supervise the preparation of certifications and applications for orders under the Foreign Intelligence Surveillance Act and represent the United States before the United States Foreign Intelligence Surveillance Court.
Recommend action by the Department of Justice with regard to applications for foreign intelligence and counterintelligence electronic surveillance, as well as for other investigative activities by executive branch agencies.
Monitor intelligence and counterintelligence activities of other agencies to ensure conformity with Department objectives.
Prepare reports evaluating domestic and foreign intelligence and counterintelligence activities and assessing trends or changes in these activities.
Provide legal and policy advice regarding classification of national security information and perform pre-publication review of materials proposed to be published by present and former employees of the Department.
Maintain and supervise the Intelligence Analysis Unit (IAU), which provides liaison with the intelligence community and timely intelligence product to the Attorney General and Deputy Attorney General, supporting their national security responsibilities.
Provide legal and policy advice regarding access to classified information, including the granting and denial of security clearances.