This year marks the 30th anniversary of President George H.W. Bush's signing of the Americans with Disabilities Act (ADA) into law. Throughout 2020, the Civil Rights Division is publishing a series of blog posts highlighting the impact that ADA enforcement efforts have had on people's lives. We celebrate the many ways the ADA has transformed American society and enabled a generation of Americans with disabilities to thrive. At the same time, we recognize that many barriers to equal opportunity still exist. We recommit to our work of making the promise of the ADA a reality, enabling all Americans with disabilities to achieve their dreams and reach their full potential.
Furthering the Promise: Increasing Opportunities for Integrated Employment
Working and taking an active part in the local community are central to achieving the ADA's goals of integration and economic independence for people with disabilities. Yet not that long ago, the main option available to many Rhode Islanders with intellectual or developmental disabilities was to work in segregated facilities where they spent their days doing tasks like sorting trinkets for as little as 14 cents an hour. The other option was to attend segregated day programs where they sat at tables coloring or doing jigsaw puzzles. Many of those individuals wanted to work and participate in their communities, alongside their friends and neighbors.
Rhode Island's practice of unnecessarily isolating people with disabilities from their communities began to change when the United States entered into two agreements: the 2013 Interim Settlement Agreement with the State of Rhode Island and City of Providence, and the 2014 Consent Decree with the State. Under these agreements, the state and city are changing employment and day services. Adults now receive employment services to help them find and maintain jobs in the community. They also get day services that allow them to engage in mainstream activities, like walking with friends on the beach and participating in sports. Youth now get trial work experiences in integrated employment alongside people without disabilities, and as a result, can work in integrated employment, such as typical businesses. They can also now participate in community-based day activities, such as volunteering.
Providence has shown that local government services can help make integrated employment a reality for youth with intellectual and developmental disabilities. Nearly every single high school student covered by the settlement agreement successfully completed multiple 60-day trial work experiences in typical businesses. As a result, the United States agreed and the court ordered Providence to be released from the agreement ahead of schedule.
The stories below show how Rhode Islanders with disabilities thrived when empowered to work and participate in their communities.
In high school, Marilyn Lima dreamed of getting a culinary job. But instead, after graduating in 1984, Marilyn did factory work in a sheltered workshop. "She was bored," says her current employment service provider. Although she dreamed of a different career, Marilyn was stuck in the sheltered workshop for over 20 years.
Because of the agreement with the state, Marilyn finally received integrated employment services. She landed a job working as a dietary aid in the dining room of a nursing home. "I serve people," says Marilyn. "I set up 72 trays every day, wash dishes, serve residents, and clean the dining room." When Marilyn first began working as a dietary aide, she received on-the-job coaching. Over time, Marilyn became more independent, and the job coaching support tapered off. "She's very good at what she does," says Marilyn's supervisor. Having a job has increased Marilyn's independence. Marilyn lives in her own apartment, and spends her paycheck the way she wants. Marilyn loves everything about her job, especially the people. "My boss is super. She's even given me a couple raises!" Marilyn continued working until October of this year and hopes to return to work soon.
Genaro Vazquez, Jr. attended a special education program in a Providence, Rhode Island school, where he spent most school days sorting, assembling, and packaging items at an in-school sheltered workshop. But after the agreement with Providence, he received services that included volunteer rotations at a nursing home, a café, and at Petco.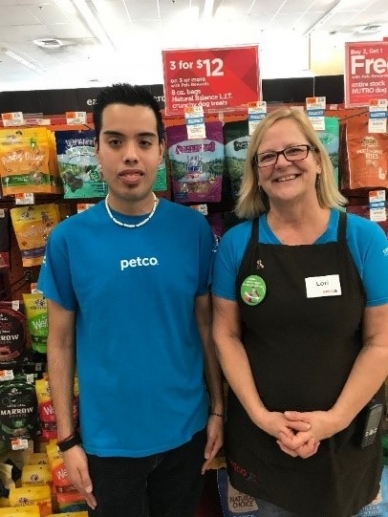 Petco hired Genaro after he finished school. Genaro is responsible for restocking food and litter and helps customers on the sales floor. He also helps teach other Petco volunteers. "My favorite part is seeing all the dogs," says Genaro. Genaro's supervisor says Genaro is a hard worker.  "He's very self-motivated, and he knows exactly how to do his job," she says. Genaro not only excels at his job, he's modest, too. When his supervisor says "Genaro is a leader," he responds, "I wouldn't say I'm a leader. I just like to help people." Outside of work, Genaro is interested in joining the Partnership for Adult Learning at Brown University. Genaro continues to work in his community throughout the pandemic.
To learn more about the ADA's history and impact, please visit the department's ADA Anniversary webpage, which includes this and other blog posts honoring Faces of the ADA. To learn more about the department's ADA work generally, see www.ada.gov or call the department's toll-free ADA Information Line at 800-514-0301 (TDD 800-514-0383).
Updated January 20, 2021