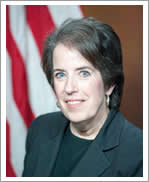 Deborah Leff is Acting Senior Counselor for Access to Justice at the US Department of Justice. The Access to Justice Initiative was established in March 2010 to address the access-to-justice crisis in the criminal and civil justice system. ATJ's mission is to help the justice system efficiently deliver outcomes that are fair and accessible to all, irrespective of wealth and status. The Initiative's staff works within the Department of Justice, across federal agencies, and with state, local, and tribal justice system stakeholders to increase access to counsel and legal assistance and to improve the justice delivery systems that serve people who are unable to afford lawyers.
Prior to joining the Justice Department in 2010, Ms. Leff held a variety of leadership positions in the public, private and non-profit sectors. She was President and member of the Board of Directors of the Public Welfare Foundation, a national foundation based in Washington, D.C., focusing on criminal and juvenile justice, health reform, and workers' rights. She has also served as Director of the John F. Kennedy Presidential Library and Museum; President and CEO of Feeding America, the nation's largest domestic hunger relief organization; and President of the Joyce Foundation. During much of the 1980s and early 1990s, Ms. Leff was Senior Producer at ABC News Nightline, World News Tonight and 20/20, overseeing coverage that won numerous national awards, including the Emmy and the DuPont awards. She is the former Chair of the Board of Directors of StoryCorps and previously served on the Board of Directors of the American Board of Internal Medicine Foundation, CARE and the Children's Defense Fund. She also chaired the Midwest Rhodes Scholars Selection Committee.
Ms. Leff received her undergraduate degree from Princeton University's Woodrow Wilson School of Public and International Affairs, where she was named a University Scholar. She earned her law degree from the University of Chicago Law School and received an honorary doctorate in humane letters from Lake Forest College.
Updated October 20, 2014