This document is also available in PDF format (comparable to original document formatting). To view the PDF you will need Acrobat Reader, which may be downloaded from the Adobe site.
Comment Number: AGW-13686
| | |
| --- | --- |
| From: | Mark A. Kastel - The Cornucopia Institute |
| Sent: | Tuesday, December 29, 2009 12:43 PM |
| To: | ATR-Agricultural Workshops |
| Subject: | Antitrust concerns related to the organic food and farming industry... |
---
December 29, 2009
To whom it may concern,
We applaud the initiative by the Obama administration to reinstitute federal scrutiny over unfair trade practices, including monopolistic concentration, that has distorted competition in our agricultural sectors injuring both farmers and consumers alike in the marketplace.
Nowhere is this more apparent than the growing organic food sector.  Vertical and horizontal integration, and market share dominance, in both the distribution sectors and processing/marketing have subverted competition.  Whereas economy of scale should have kicked in over the last 20 years in the rapidly growing organic market, helping to bring prices down and make organic food more accessible to consumers, we've seen exponential inflation in organic food far exceeding the consumer price index.
Furthermore, in certain sectors, like organic dairy, the wealthy and powerful corporation Dean Foods has become dominant and is using its economic clout to buy premium shelf space at retailers, knocking off other competitors, and allegedly engaging in predatory pricing practices, to squeeze their competition.
We strongly encourage you to include the organic industry, and organic dairy in particular, in your analysis and debate during the upcoming public hearings.
Please let us know if our staff can be of assistance in your meritorious endeavor.
Sincerely yours,
Mark A. Kastel
Senior Farm Policy Analyst
The Cornucopia Institute
Cornucopia, Wisconsin
Mark A. Kastel
The Cornucopia Institute
kastel@cornucopia.org
608-625-2042 Voice
866-861-2214Fax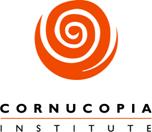 P.O. Box
126
Cornucopia, Wisconsin54827
www.cornucopia.org
Updated April 7, 2016