January 2009 promised a year of change in the Department of Justice as a whole as well as within the Division. Commemorating that change, on January 27, 2010, Attorney General Eric Holder took the opportunity to come to the Division's offices at Liberty Square to personally meet all of the Division's employees to not just share his vision for the Division's future but to honor the Division's past.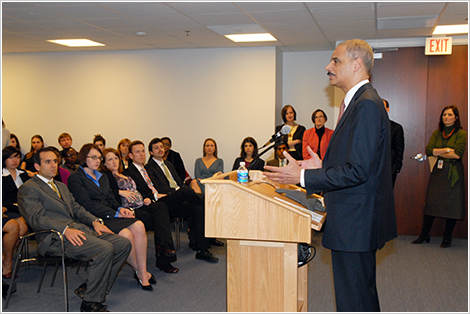 Attorney General Eric Holder speaks to the Antitrust Division.
Attorney General Holder noted that his own career started at DOJ as a career trial attorney. He said that his earliest mentors, the career lawyers he worked with, "embodied the integrity, judgment, and great skill" that is the bedrock of any component within the Department. He said that strong, forceful, and focused leadership is important, but that the "heart and soul" of the Division and "what makes the Division great" are the dedicated career professionals who make it happen.
The Attorney General said that the first order of business was to "get back to basics" and reinvigorate the Department's traditional mission. Within the Division, he said that meant ensuring robust competition in the marketplace through increased enforcement, transparency, and interagency cooperation. The Division is working to meet that challenge.
For the staff of the Division it was an opportunity to celebrate accomplishments and a chance to document their place in history, as each staff member was given an opportunity to have their photo taken with the Attorney General.
Updated July 21, 2015