The Antitrust Division seeks a workforce composed of a wide cross section of America, diverse in physical characteristics, perspective, and thought. In support of this workforce, the Division pursues a work environment where equality, respect, and tolerance are of paramount importance and employee diversity is celebrated and supported.
The Division recognizes that a richly diverse staff makes better decisions in its mission to support a vibrant and competitive American economy.
Diversity Committee
The Antitrust Division's Diversity Committee is committed to helping foster a diverse and inclusive culture within the Division.
Some of the Committee's many initiatives include:
Recruiting: Attending diversity recruiting events and developing new attorney and paralegal recruiting brochures.

Training: Providing mentorship, professional development programs, and training on best practices for fostering a welcoming and inclusive environment for all employees.

Speaker Series: Hosting speaker series events to raise awareness of diversity and inclusion issues.
In 2016, Diversity Committee members were awarded the Antitrust Division's Diversity Champion Award and the Attorney General's Award for Equal Employment Opportunity for these efforts.
Meet the Diversity Committee
---
Maribeth Petrizzi
Chief, Defense, Industrials, and Aerospace Section
Because I believe that diversity and inclusion should be at the center of our daily work environment, I have been an active participant on the Antitrust Division's Diversity Committee for the past four years. During that time, the Diversity Committee has undertaken a variety of important efforts to facilitate an understanding of diversity issues and their importance to the workplace.
For example, I was part of the team that was instrumental in including a "Disabilities in the Workplace" component in the Attorney General's Diversity and Inclusion Speaker Series and introducing the Diversity and Inclusion Dialogue Program (DIDP) to the Division. Participation in the DIDP can lead to the development of environmental change within the Division that potentially can increase overall efficiency and productivity. Through my own participation in DIDP, I have become more open-minded and receptive to differing perspectives.
I look forward to continuing to work with the Diversity Committee on its efforts to foster greater awareness within the Division, which will lead to greater respect, understanding, and openness among Division employees, and ultimately will benefit the work of the Division in its antitrust enforcement mission.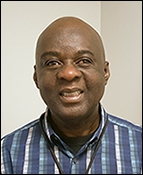 ---
Charles Mbonu
IT Project Manager
I joined the Diversity Committee because I believe that diversity enhances productivity. It encourages peace and unity by bridging the gap between our different backgrounds and experiences. I enjoy the informality of the meetings and the exchange of ideas between employees of different races, backgrounds, and experiences. I also enjoy participating in Diversity Committee activities which strive to make our work environment more acceptable to all.
Diversity is important to me because I believe that our country is great today because of our nation's diverse nature. Diversity is important for our mission because with the diverse backgrounds of our workforce, we can more effectively enforce antitrust laws and protect consumers from all spheres of our society.
---
Hayden Smith
Paralegal Supervisor
I have been a member of the Diversity Committee for over two years, where I've served as a member of the Outreach Subcommittee. I am now serving as the Chair of the Outreach Subcommittee. I joined the Diversity Committee because I realized that diversity in the workplace does not always occur on its own, but it takes people with dedication and a commitment to this effort in order to affect positive change.
I really enjoy working on the Diversity Committee and I'm very proud of the Outreach Subcommittee's projects such as the redesign of the attorney recruitment brochure, the development of the Antitrust Division's first ever paralegal recruitment brochure, and the organization of an annual Intern Visit to Washington, D.C. for our interns in New York, Chicago, and San Francisco.
Department of Justice Diversity Resources
Updated February 26, 2018