Competition Guidance and Advocacy 2015
Competition Guidance and Advocacy 2015

By engaging with the general public, the business and academic communities, the private bar, and other enforcers on significant antitrust issues, the Antitrust Division promotes competition and plays a leading role in fostering a better understanding of how to interpret and apply the nation's antitrust laws. The Division's advocacy this past year addressed a range of significant issues, including competition in our health care markets, standards setting, intellectual property licensing, agriculture, cybersecurity, and conditional pricing practices.
Policy Guidance
Institute of Electrical and Electronics Engineers (IEEE) Business Review Letter
On February 2, 2015, the Division issued a business review letter in response to a request from the Institute of Electrical and Electronics Engineers, Inc., regarding a proposed update to its standards association's patent policy. The update would govern the incorporation of patented technologies in IEEE standards. The proposed update would clarify the terms under which owners of patents necessary to implement IEEE standards would commit to make licenses available to implementers of those standards. Because the update has the potential to facilitate the standardization process by adding clarity to the licensing commitment that patent owners voluntarily make to IEEE, and it is not likely to harm competition, the letter stated that the Division had no present intention to challenge the update. This letter continues the Division's effort to provide standards-setting organizations and the high-tech community with guidance concerning the boundaries of procompetitive standards-setting activities. In so doing, the Division helps facilitate standardization and increases competition among technologies to be included in standards, to the benefit of consumers.
Cybersecurity
From time to time, the Division and the Federal Trade Commission (FTC) issue policy statements when they believe detailed guidance will be helpful to businesses confronting novel antitrust questions. In April 2014, the Division and FTC issued the Antitrust Policy Statement on the Sharing of Cybersecurity Information, which made clear that the legitimate sharing of cyber threat information is unlikely to raise antitrust concerns. The statement explained the agencies' analytical framework for assessing cybersecurity information sharing to give firms contemplating such sharing confidence that they could do so within the antitrust laws. By reducing uncertainty about the antitrust implications of sharing cyber threat information, the policy statement clears the way for businesses to collaborate to help keep safe the nation's information networks. In October 2014, the Division applied this guidance in a business review letter to CyberPoint International LLC stating that the Division would not challenge CyberPoint's proposal to offer a cyber intelligence data-sharing platform. This platform, which would allow entities to share cyber threat information and jointly develop solutions to prevent successful cyber attacks, would operate within the bounds the agencies set out in their cybersecurity policy statement, and the Division concluded that the proposal was unlikely to facilitate anticompetitive coordination between competitors.
Public Workshops
Public workshops provide an opportunity for the Division, often in concert with the FTC, to bring the best minds in antitrust analysis together to shed light on cutting-edge antitrust issues.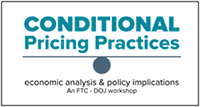 In June 2014, the Division and FTC held a public workshop on the law and economics of certain common types of conditional pricing practices, particularly loyalty and bundled pricing. Participants included leading economists, legal scholars, and lawyers, who spoke on panels and roundtables exploring the economic and legal analyses of these pricing practices. Assistant Attorney General Bill Baer made opening remarks, along with FTC Commissioner Maureen Ohlhausen. Presentations given at the workshop are available on the Conditional Pricing Practices page on the Division's Internet site, as are a number of public comments.
In February 2015, the Division and FTC hosted a two-day joint public workshop on competition in health care markets to explore recent developments in provider organization and health care payment models. The passage of the Affordable Care Act in 2010 created new markets and modes of competition in health care. To better understand these developments, workshop topics included early evaluations of accountable care organizations and health insurance exchanges, as well as trends in health care provider consolidation and provider network and benefit design strategies. Presentations and public comments are available on the Examining Health Care Competition page on the Division's Internet site.
Legal Policy Section Chief Robert Potter makes a point during closing remarks at the Health Care Workshop
Twentieth Anniversary of the Antitrust Guidelines for the Licensing of Intellectual Property
This month marks the twentieth anniversary of the Antitrust Guidelines for the Licensing of Intellectual Property, which the Division issued jointly with the FTC in April 1995. For two decades, these guidelines have provided transparency regarding the agencies' views on many common licensing practices, such as cross-licensing and patent pooling, field-of-use and territorial restraints in intellectual property licenses, exclusive dealing, and tying. These guidelines set out core principles that the agencies follow when analyzing licensing arrangements. Those principles include:
Applying standard antitrust principles to conduct involving intellectual property rights; 
Not presuming that a patent, copyright, or trade secret necessarily confers market power upon its owner; and
Recognizing the potential procompetitive benefits of licensing and analyzing the vast majority of intellectual property licensing arrangements under the rule of reason.
Since the Antitrust Intellectual Property Guidelines were issued in 1995, they have been cited by courts, including by the U.S. Supreme Court in Illinois Tool Works Inc. v. Independent Ink, Inc., 547 U.S. 28 (2006). They have also guided the Division's enforcement decisions and been relied upon in numerous government briefs, business review letters, and policy documents, including the 2007 joint DOJ/FTC IP Report on Antitrust Enforcement and IP Rights. The guidelines have aided business planning, and other competition authorities have adopted similar formal intellectual property guidelines that help provide greater clarity for businesses engaging in intellectual property licensing activity abroad.
The Division will continue to offer policy guidance and promote competition in the upcoming years. In addition to business review letters, policy statements, and workshops, the Division's policy tools include public comments, speeches, Congressional and other forms of testimony, closing statements, amicus briefs, and guidelines. These tools provide insights into the Division's decision-making processes, allowing businesses to compete vigorously without committing violations, and ensure that competition is taken into account by lawmakers and regulators when enacting new laws and regulations. The result is more competitive markets, leading to lower prices and better quality goods and services for U.S. consumers.
Timeline of Division Guidance on Standards-Setting Activities

DOJ/FTC Report on Antitrust Enforcement and IP Rights