The Division announced its support for a proposal by The Associated Press (AP) to develop and operate a voluntary news registry to facilitate the licensing and Internet distribution of news content created by the AP, its members, and other news originators. The Division said that the development and operation of the registry is not likely to reduce competition among news content owners and could provide procompetitive benefits to both participating content owners and content users.
Press Release
April 1, 2010
Department of Justice Supports The Associated Press's Proposed Digital News Registry
The Division filed its first charges in its investigation into the municipal bonds industry. A nine-count indictment was returned charging CDR Financial Products Inc., a Beverly Hills, California-based financial products and services firm, two of its executives, and one former executive for participating in bid-rigging and fraud conspiracies related to the investment of municipal bond proceeds. Three former CDR employee also pleaded guilty for their participation in the conspiracies.
Press Releases
March 15, 2010
Third Former Employee of Financial Products and Services Firm Pleads Guilty for Role in Bid-Rigging and Fraud Conspiracies Involving Proceeds of Municipal Bonds
March 11, 2010
Second Former Employee of Financial Products and Services Firm Pleads Guilty for Role in Bid-Rigging and Fraud Conspiracies Involving Proceeds of Municipal Bonds
February 24, 2010
Former Employee of Financial Products and Services Firm Pleads Guilty for Role in Bid-Rigging and Fraud Conspiracies Involving Proceeds of Municipal Bonds
October 29, 2009
Financial Products and Services Firm, Two Executives and One Former Executive Indicted for Roles in Conspiracies Involving Proceeds of Municipal Bonds
Blue Cross Blue Shield of Michigan's (Blue Cross-Michigan) subsidiary, Blue Care Networks of Michigan, abandoned its attempt to purchase Physician's Health Plan of Mid-Michigan after the Department informed the companies that it would file an antitrust lawsuit to block the acquisition. The Department said that, had the acquisition gone forward, it would have given Blue Cross-Michigan control of nearly 90 percent of the commercial health insurance market in the Lansing, Michigan area, which would have resulted in higher prices, fewer choices, and a reduction in the quality of commercial health insurance plans purchased by Lansing area residents and their employers.
Press Release
March 8, 2010
Blue Cross Blue Shield of Michigan and Physicians Health Plan of Mid-Michigan Abandon Merger Plans
The Division requires Election Systems and Software Inc. to divest assets of Premier Election Solutions in order to preserve competition for sales and service of voting equipment systems.
Press Release
March 8, 2010
Justice Department Requires Key Divestiture in Election Systems & Software/Premier Election Solutions Merger
KeySpan Corp. disgorges $12 million of profits to the Division for violating the antitrust laws by entering into an agreement restraining competition in the New York City electricity capacity market.
Press Release
February 22, 2010
Justice Department Requires KeySpan to Disgorge $12 Million in Profits from Anticompetitive Agreement
The Division obtained a consent decree requiring Ticketmaster to license its ticketing software to AEG, divest ticketing assets to Comcast-Spectacor, and subject itself to anti-retaliation provisions in order to proceed with its proposed merger with Live Nation.
Press Release
January 25, 2010
Justice Department Requires Ticketmaster Entertainment Inc. to Make Significant Changes to Its Merger with Live Nation Inc.
The Division sues Dean Foods Company, seeking to unwind its April 2009 acquisition of Foremost Farms USA's Consumer Products Division, its primary competitor in the sale of milk to schools, grocery stores, convenience stores, and other retailers in Illinois, Michigan, and Wisconsin.
Press Release
January 22, 2010
Justice Department Files Antitrust Lawsuit Against Dean Foods Company
Smithfield Foods Inc. and Premium Standard Farms LLC are required to pay $900,000 in civil penalties for violating premerger waiting period requirements.
Press Release
January 21, 2010
Smithfield Foods and Premium Standard Farms Charged with Illegal Premerger Coordination
The Department submitted a filing to the Federal Communications Commission (FCC) to comment on how it should approach the competition-related issues in its broadband plan. In that filing, the Department discussed the nature of competition in the broadband marketplace, explaining that broadband markets do not and will not look like textbook markets of perfect competition, with many price-taking firms, there are important steps that can promote competition in this important market. Notably, the filing explained that promoting competition is likely to take the form of enabling additional entry and expansion by wireless broadband providers, placing a premium on the policy goal of freeing up additional spectrum for broadband. Finally, the filing discussed other policy levels and recommended to the FCC that it institute effective reporting obligations to facilitate better oversight of the marketplace by both policymakers and consumers.
Comment
January 4, 2010
Ex Parte Submission of the United States Department of Justice: In the Matter of Economic Issues in Broadband Competition - A National Broadband Plan for Our Future
A former owner of three Kansas computer service companies was sentenced to 57 months in prison for his role in a conspiracy to defraud the federal E-Rate program and for making a false statement to the U.S. Department of Housing and Urban Development. To date, seven companies and 19 individuals have pleaded guilty, been found guilty at trial, or entered civil settlements as a result of the Division's E-Rate investigations and have been sentenced to pay more than $42 million in fines and restitution.
Press Release
December 16, 2009
Former Kansas Businessman Sentenced to 57 Months in Prison for Role in Scheme to Defraud Federal E-Rate Program
Taiwan LCD producer agreed to plead guilty and pay $220 million in criminal fines for its role in a conspiracy to fix prices in the sale of liquid crystal display panels. The Division's ongoing investigation has resulted in charges against six companies and nine executives and fines totaling over $860 million to date.
Press Release
December 9, 2009
Taiwan LCD Producer Agrees to Plead Guilty and Pay $220 Million Fine for Participating in LCD Price-Fixing Conspiracy
A former U.S. Army contracting officer was sentenced to 210 months in prison, the longest sentence ever imposed in a Division prosecution, his wife was sentenced to 41 months, his sister to 70 months, and his niece to 12 months for participating in a bribery and money-laundering scheme related to bribes paid for contracts awarded in support of the Iraq war. Together the four defendants were also ordered to pay more than $19 million in restitution.
Press Release
December 2, 2009
Army Officer, Wife and Relatives Sentenced in Bribery and Money Laundering Scheme Related to DOD Contracts in Support of Iraq War
A former New Jersey subcontractor representative pled guilty to charges involving his role in kickback and fraud conspiracy at a U.S. Environmental Protection Agency (EPA) Superfund site in New Jersey. To date, a total of three companies and eight individuals have pleaded guilty as a part of the investigation.
Press Release
October 28, 2009
Former Subcontractor Representative Pleads Guilty to Indictment Involving Conspiracy at New Jersey Superfund Site
Consent decree requires divestitures of assets in eight cellular marketing areas to preserve competition for mobile wireless customers in Louisiana and Mississippi arising from AT&T's acquisition of Centennial.
Press Release
October 13, 2009
Justice Department Requires Divestitures in AT&T's Acquisition of Centennial
A Minnesota packaged-ice company agreed to plead guilty and pay a $9 million criminal fine and three of the company's former executives plead guilty for their roles in the conspiracy to allocate packaged-ice customers in Detroit and southeastern Michigan.
Press Release
October 13, 2009
Minneapolis Packaged-Ice Company Agrees to Plead Guilty and Three Former Executives Plead Guilty to Customer Allocation Conspiracy
American Needle, Inc. v. National Football League. The issue before the U.S. Supreme Court is whether the National Football League and its teams act as a single entity, to which Section 1 of the Sherman Act does not apply, with respect to the licensing of intellectual property. The Solicitor General filed briefs for the United States, in which the Federal Trade Commission joined, at the petition and merits stages. The Solicitor General's brief on the merits argues that a legitimate joint venture, such as a sports league, may be treated as a single entity for some, but not all, purposes. The government emphasized that the teams do not act as a single entity in forming a sports league, centralizing additional functions, or agreeing on the manner in which they compete in the market place. Although the Supreme Court did not reach the question presented in this case in its Copperweld and Dagher decisions, the reasoning of those cases supports treating the teams and the league as a single entity in limited circumstances in which the teams and the league have previously "effectively merged" the relevant aspect of the operations, completely eliminating competition among themselves in that aspect; and the challenged restraint does not significantly affect actual or potential competition among the teams, or between the teams and the league, in aspects of their operations that have not been effectively merged. Because the court of appeals relied on a flawed analysis in treating the NFL and the teams as a single entity with respect to the conduct challenged in this case, the Solicitor General urged the Court to vacate the lower court's judgment and remand for further consideration.
Brief
September 2009
Brief for the United States as Amicus Curiae Supporting Petitioner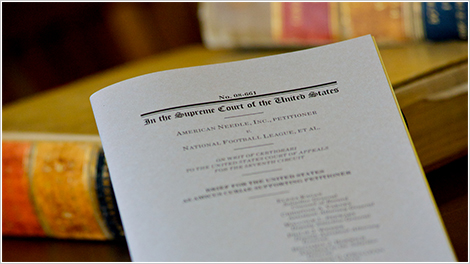 American Needle, Inc., Petitioner v. National Football League, et al., Brief for the United States as Amicus Curiae Supporting Petitioner
During the Fall and first quarter of 2010, the Division and the Federal Trade Commission solicited comments and held joint public workshops around the country to explore the possibility of updating the Horizontal Merger Guidelines used by both agencies to evaluate the potential competitive effects of mergers and acquisitions. The nearly 100 panelists participating in these workshops included leading practitioners, economists, consumer advocates, industry executives, and academics. As AAG Varney remarked at the final workshop held in Washington, D.C. this past January, "The Guidelines are designed to be 'revised from time to time as necessary'...to fulfill what recent Nobel laureate and...Antitrust Division alumnus Oliver Williamson has identified as an original objective of the Merger Guidelines: 'putting antitrust enforcement on sounder economic foundations.'"
On April 20, the FTC voted to release for public comment proposed Horizontal Merger Guidelines to replace the current Guidelines. The proposed Guidelines were crafted together by the Department and the FTC in close collaboration and can be found on the FTC's Guidelines Web page.
Speech
January 26, 2010
An Update on the Review of the Horizontal Merger Guidelines - Remarks by Christine Varney as Prepared for the Horizontal Merger Guidelines Review Project's Final Workshop
Press Release
September 22, 2009
Department of Justice and Federal Trade Commission to Hold Workshop Concerning Horizontal Merger Guidelines
The Division submitted views on the proposed class action settlement in The Authors Guild Inc. et al. v. Google Inc., advising the U.S. District Court in the Southern District of New York that it should not accept the settlement due to concerns regarding class action, copyright, and antitrust law.
Press Release
September 18, 2009
Justice Department Submits Views on Proposed Google Book Search Settlement
A former sand and gravel subcontractor was sentenced to serve five years in prison and to pay a $5,000 criminal fine after being convicted by a federal jury of conspiracy and bribery in connection with a $16 million hurricane protection project for the reconstruction of the Lake Cataouatche Levee south of New Orleans.
Press Release
August 26, 2009
Former Sand and Gravel Subcontractor Sentenced to 5 Years in Prison After Conspiracy and Bribery Conviction in Connection with a Levee Reconstruction Project
To settle its 2009 litigation, the Division obtained a consent decree requiring Microsemi Corp. to divest all assets it acquired from Semicoa Inc. in July 2008 to preserve competition in the development, manufacture, and sale of semiconductor devices.
Press Release
August 20, 2009
Justice Department Reaches Settlement with Microsemi Corp.
The Attorney General and Agriculture Secretary announce that the DOJ and USDA will hold joint public workshops to explore competition issues affecting the agriculture industry and the appropriate role for antitrust and regulatory enforcement in that industry. These are the first joint DOJ/USDA workshops ever to be held to discuss competition and regulation issues in the agriculture industry.
Press Release
August 5, 2009
Justice Department and USDA to Hold Public Workshops to Explore Competition Issues in the Agriculture Industry
The Second Circuit invited the United States to file a brief in Arkansas Carpenters Health and Welfare Fund v. Bayer, AG ("Cipro"), addressing the application of the antitrust laws to reverse payment settlement agreements in the context of the Hatch-Waxman Act. On July 6, 2009, the government filed a brief arguing that agreements settling pharmaceutical patent infringement actions on terms involving a payment from the patent holder to the alleged infringer in exchange for delayed entry are presumptively unlawful under Section 1 of the Sherman Act. Such agreements are not unlawful per se, the government emphasized, and defendants are entitled to rebut the presumption by offering evidence that the reverse payment did not purchase reduced competition. The brief explained that the Second Circuit's prior decision is the Tamoxifen case, rejecting most antitrust challenges to reverse payment settlements, improperly treated private agreements settling patent litigation as the equivalent of litigated judgments affirming the validity of the patent (except those involving knowing fraud or objectively baseless patent claims). This result, the government urged, upsets the balance Congress struck in the Patent Act between providing for the enforcement of legitimate patent rights and protecting consumers' interest in a competitive marketplace through the invalidation of undeserved patents.
Brief
July 6, 2009
Brief for the United States in Response to the Court's Invitation
The Division announced an initiative to help protect recovery funds from fraud, waste, and abuse. The initiative is aimed at preparing government officials and contractors to recognize and report efforts by parties to unlawfully profit from the stimulus projects that were awarded as part of The American Recovery and Reinvestment Act of 2009.
Press Release
May 12, 2009
Antitrust Division Announces Initiative to Help Protect Recovery Funds from Fraud, Waste and Abuse
The Department withdrew the Section 2 Report relating to monopolization offenses under the antitrust laws, which was issued in September 2008. The Department said that the report raised too many hurdles to government antitrust enforcement and favored extreme caution and the development of safe harbors for certain conduct within reach of Section 2.
Press Release
May 11, 2009
Justice Department Withdraws Report on Antitrust Monopoly Law
Three international airline companies, Cargolux Airlines International S.A., Nippon Cargo Airlines Co. Ltd., and Asiana Airlines Inc., agreed to plead guilty and pay criminal fines totaling $214 million for conspiring to fix prices in the air transportation industry. Fines in the Division's on-going investigation total more than $1.6 billion, and 15 companies and four individuals have pleaded guilty to date.
Press Release
April 9, 2009
Three International Airline Companies Agree to Plead Guilty to Price Fixing on Air Cargo Shipments
Updated July 15, 2015