Vigorous Civil Enforcement Program
Under the leadership of Assistant Attorney General Christine Varney, the Antitrust Division has continued to vigorously protect consumers through its civil enforcement program. This year, the Division filed its first unilateral conduct case arising solely under Section 2 of the Sherman Act since 1999, and obtained a significant court ruling permitting the United States to obtain equitable disgorgement under the Sherman Act for the first time in the 120-year history of the Act. The Division's civil investigations and subsequent challenges have maintained competition in a variety of areas directly affecting U.S. consumers, including health care and health insurance, air and rail transportation, employment, credit cards, access to cable and internet programming, and steel production. Many of these efforts involved close coordination and synchronization with other parts of the Government, consistent with Assistant Attorney General Varney's vision that enforcement of the antitrust laws is most effective when we realize that disparate agencies are all part of "one government."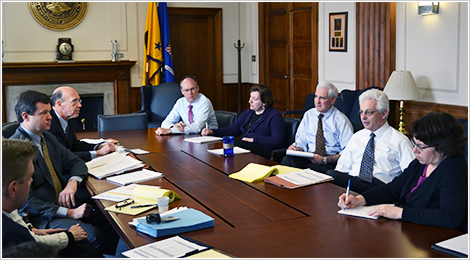 Transportation, Energy, and Agriculture (TEA) Section and Front Office meeting. (L-R) TEA attorney Robert Young, TEA Assistant Chief William Stallings, Economist Thomas Jeitschko, Counsel to the AAG Joseph Matelis, Deputy Assistant Attorney General Sharis Pozen, Chief Counsel for Competition Policy Gene Kimmelman, Deputy Assistant Attorney General Joseph Wayland, and Director of Civil Enforcement Patricia Brink.
Reinvigorated Enforcement in Civil Nonmerger Cases
The Antitrust Division has been active this past year challenging anticompetitive conduct spanning collusion among employers, group boycotts, and contractual restrictions that distort competitive market forces. Several matters remain in litigation, and others resulted in prompt injunctive relief.
The Division has brought two recent challenges to anticompetitive conduct in the health care sector, a key priority for Assistant Attorney General Varney as the Division continues its extensive involvement with health care in the United States:
On February 25, 2011, the Division, joined by the State of Texas, filed a lawsuit and reached a settlement, which is under Tunney Act review, with United Regional Health Care System of Wichita Falls, Texas, that prohibits it from entering into contracts that improperly inhibit commercial health insurers from contracting with United Regional's competitors. The action challenged United Regional's use of these contracts to maintain its monopoly for hospital services in violation of Section 2 of the Sherman Act, causing consumers to pay higher prices for health care services. This is the first case brought by the Division since 1999 that challenges a monopolist with engaging in traditional anticompetitive unilateral conduct. It also strikes at a key part of surging health care costs in America: the ability of dominant health care providers to raise prices above competitive levels.
Also, on October 18, 2010, the Division, joined by the state of Michigan, filed a lawsuit against Blue Cross Blue Shield of Michigan alleging that provisions of its agreements with hospitals, known as most favored nation clauses, have the effect of raising hospital prices, preventing other insurers from entering the marketplace and discouraging discounts. As a result, Michigan consumers pay higher prices for their health care services and health insurance. Litigation in this matter is continuing.
On October 4, 2010, the Division, joined by several states, challenged rules that American Express, MasterCard, and Visa have in place that prevent merchants from offering consumer discounts, rewards, and information about the costs related to use of their credit cards, raising the costs for merchants and, ultimately, resulting in consumers paying more for their purchases. The Division obtained a favorable settlement with MasterCard and Visa, which is under Tunney Act review, pursuant to which MasterCard and Visa agreed to lift their anticompetitive restrictions on merchants. The ongoing litigation against American Express seeks to reach the same result, so that merchants will be able to take full advantage of their new options under the proposed settlement with Visa and MasterCard. These actions directly affect billions of dollars of commerce, and successful Division prosecution has the potential for substantial consumer savings.
In September and December 2010, the Division filed two civil antitrust lawsuits, with companion settlements, against several high technology companies and digital animation studios, Adobe, Apple, Google, Intel, Intuit, Pixar, and Lucasfilm, to prevent the companies from entering into agreements restraining employee recruitment. The companies had entered into one or more bilateral agreements, pursuant to which they agreed not to actively recruit one another's highly skilled technical employees. These per se illegal agreements distorted the competitive process in the labor market to the detriment of those employees, who were likely deprived of better job opportunities.
On February 2, 2011, the United States District Court for the District of New York issued a significant decision approving the Division's settlement with KeySpan Corporation stemming from KeySpan's use of anticompetitive financial swap agreements to the detriment of electricity consumers in New York. In approving the first disgorgement payment to the United States as a result of a Sherman Act violation, the court noted: "This case is an important marker for enforcement agencies and utility regulators alike. Approving disgorgement as part of the Government's arsenal tilts incentives back in favor of competitive bidding and deters the use of derivatives as tools to manipulate a market."
Antitrust Division Active in Protecting Consumers from Anticompetitive Mergers in the Transportation and Media Sectors
Antitrust Division merger enforcement has benefited millions of U.S. consumers in several key sectors of the economy.
On Jan. 18, 2011, the Antitrust Division, joined by five states, announced it would require Comcast Corp., the largest video programming distributor in the United States, to license programming to online competitors, abide by antiretaliation provisions, and refrain from violating Open Internet requirements in order to proceed with its proposed joint venture with NBC Universal (NBCU). The remedy, which is under Tunney Act review, will ensure that opportunities for new content distribution models are preserved. In particular, the Division was concerned that the merger would enable Comcast from harming nascent online video distribution through its control over NBC content; the settlement is designed to preserve the premerger possibilities for this emerging business form, which have the potential to upset existing business models. In addition to the five states, the Division cooperated closely with the Federal Communications Commission.
On August 27, 2010, in response to the Division's expressed concerns regarding competitive effects of the proposed merger between United Airlines and Continental Airlines, the parties agreed to transfer takeoff and landing rights and other assets at Newark Airport to Southwest Airlines. The proposed acquisition resulted in a competitive overlap on a limited number of nonstop routes, with the Division's major area of concern focused on Continental's hub at Newark Airport. Continental's high share of service at Newark Airport, coupled with a limited availability of slots, made entry by other airlines difficult. The transfer of Newark slots to Southwest, a low cost carrier that had limited service in the New York metropolitan area and no presence at Newark, will significantly benefit consumers on overlap routes, as well as other routes.
On November 29, 2010, the Division obtained a settlement with GrafTech International, a major producer of graphite electrodes, to significantly modify its supply agreement with ConocoPhillips, and implement substantial reporting and firewall obligations in order to proceed with its proposed vertical acquisition of Seadrift Coke. Such concessions were necessary to remove the ability and incentive for GrafTech and Conoco to coordinate on the price and output of a critical petroleum product used in the production of graphite electrodes.
Tony West, Assistant Attorney General Civil Division, and Christine Varney, Assistant Attorney General Antitrust Division, after a joint initiatives meeting.
Close Cooperation with Other Enforcement Agencies
As detailed above, many of the Division's enforcement actions were taken in conjunction with other competition enforcers or other parts of the Government. For instance, the Division has worked, and continues to work, closely with the Michigan Attorney General's office in its investigation of, and subsequent litigation over, Blue Cross Blue Shield of Michigan's use of anticompetitive contractual clauses with hospitals. The Division also worked closely with the relevant states in the investigation and suit against the major credit card carriers, as well as with the Federal Communications Commission and the relevant states on the Comcast/NBCU transaction. In a number of other matters, the Division continues to coordinate with the other Federal agencies that regulate particular industries, including the Federal Energy Regulatory Commission and the Department of Transportation.
HSR Filings Continue to Increase
Premerger notifications under the Hart-Scott-Rodino (HSR) Act increased this past fiscal year, from 716 notifications in FY 2009 to 1,116 in FY 2010. That upward trajectory continued in the first quarter of FY 2010–2011, during which we received 436 filings, compared with 285 filings in the first quarter of FY 2009–2010.
The Antitrust Division's merger enforcement has kept pace with the increased number of HSR filings. Since the last American Bar Association Spring Meeting, the Division filed six merger enforcement actions, all of which resulted in settlement. The Division also recently settled a litigated merger enforcement action brought in 2010 against Dean Foods. In addition, parties either restructured or abandoned six other transactions in response to a Division challenge.
Updated July 13, 2015