Last year's Update announced the kick-off of an unprecedented joint initiative by the Department of Justice (DOJ) and the U.S. Department of Agriculture (USDA) to explore competition issues affecting the agricultural sector in the 21st century. As noted at that time, a healthy, competitive agricultural sector is vitally important to our nation's economy as well as a matter of national security and public health. For those reasons, DOJ and USDA hosted five workshops around the country to promote dialogue with, and foster learning from, a diverse group of stakeholders about the agricultural marketplace.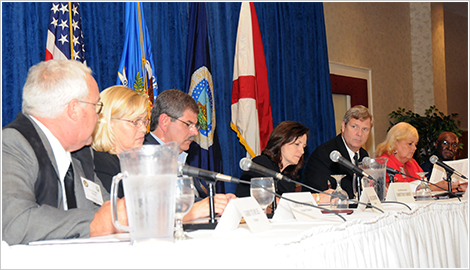 DOJ/USDA Ag Workshop in Normal, Alabama. (L-R) Garry Staples, a poultry producer from Steele, Alabama, Carole Morison, a former poultry producer from Maryland, Gary Alexander, a poultry producer from Westminster, South Carolina, Assistant Attorney General Christine Varney, Agriculture Secretary Tom Vilsack, Kay Doby, a former poultry producer from Cameron, North Carolina, and Robert Lumzy, a former poultry producer from Columbia, Mississippi.
The agencies are committed to this effort at the highest levels as demonstrated by Attorney General Eric Holder and Secretary Tom Vilsack's attendance at the workshops, and the work continues today. A task force made up of members from the USDA and the DOJ's Antitrust Division and Civil Division was established to jointly assure that all available resources are explored and utilized. Input and guidance is also being provided to the USDA as it prepares to revise its rules under the Packers and Stockyards Act.
Public participation at the workshops is a testament to the importance of the issues examined, including the challenges faced in different commodities and margins at various levels of the agricultural supply chain. More than 4,000 attendees—many traveling great distances—attended workshops in Ankeny, Iowa; Normal, Alabama; Madison, Wisconsin; Fort Collins, Colorado; and Washington, D.C. More than 230 people during more than 10 hours of public testimony were heard. In addition, the department received in excess of 18,000 comments to the Division's Web site.
The testimony of farmers, other industry stakeholders, leading economists, and academics greatly informed the thinking of the Division and left it better equipped to ensure that our nation's agriculture sector and consumers reap the benefits of a competitive and fair marketplace.
Equally vital was the participation of members of Congress, governors, state attorneys general, state secretaries of agriculture, the Commodity Futures Trading Commission, and the Federal Trade Commission. Antitrust enforcement cannot solve all of the problems facing the industry today but with the shared commitment to competition and opportunity in agriculture meaningful and measurable progress will be achieved. Each of us—Federal agencies, state governments, private corporations, and producers—has a stake in an open and competitive agriculture industry, and the Antitrust Division has dedicated itself to doing its part.
Full transcripts and videos of the workshops are available on the Division's agriculture workshop page.
Updated April 7, 2020