Promoting competition principles through broad advocacy efforts and outreach is among the Antitrust Division's highest priorities. The Division's competition advocacy program is far-reaching and varied—it includes providing testimony and comments on Federal and State legislation and regulations, consulting with other Federal and State agencies on competition issues, filing amicus briefs with the U.S. Supreme Court and appellate courts, and issuing competitive impact statements and closing statements to provide transparency into the reasoning and competitive analysis underlying the Division's consent decrees and its decisions to close certain cases. It also includes issuing formal guidelines, policy statements, and business review letters to inform the business community and general public about the Division's approach to particular competition issues. The Division's competition advocacy efforts encompass a broad range of industries, including the health care, financial services, agriculture, and high-technology sectors. All of these efforts serve the Division's goal of increasing awareness and understanding of the importance of competition and healthy markets among both Federal and State governments and regulators, the courts, the business community, and the general public.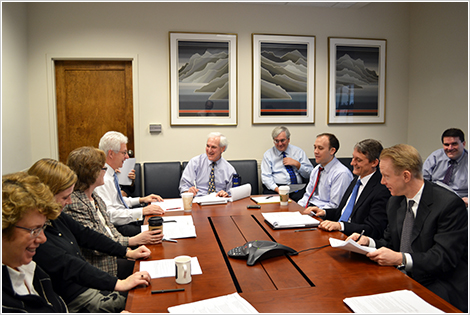 Gene Kimmelman, Chief Counsel for Competition Policy and Intergovernmental Relations, meeting with Division leadership. (L-R) Patricia Brink, Fiona Scott-Morton, Rachel Brandenburger, Joe Wayland, Gene Kimmelman, Mark Ryan, Jeffrey Wilder, John Read, David Kully, W. Robert Majure.
This past year has been an especially busy one for our advocacy program. One area of particular focus has been health care. The enactment of health care reform in 2010 presented important opportunities for the Division to promote competition in this sector. For example, the Affordable Care Act encourages health care providers to form accountable care organizations (ACOs) to deliver more efficient and higher quality care to Medicare fee-for-service beneficiaries under the Medicare Shared Savings Program. To provide antitrust guidance to providers considering forming ACOs, in October 2011, the Division and the Federal Trade Commission issued their joint Statement of Antitrust Enforcement Policy Regarding Accountable Care Organizations Participating in the Medicare Shared Savings Program. With the goal of encouraging the development of innovative ACOs while safeguarding competition in the provision of medical services, the policy statement spells out clear and consistent guidelines for providers that want to form beneficial, procompetitive ACOs.
The Division's recent health care advocacy also includes providing comments in response to a request by a member of the Tennessee legislature in support of a proposed amendment to Tennessee law that would repeal Tennessee's antitrust exemption for public hospitals.
As the Tennessee example shows, filing comments with Federal and State agencies is an important part of the Division's advocacy program. In December 2011, the Division filed comments with the Federal Maritime Commission requesting that it carefully consider and order appropriate conditions on certain proposed amendments to an agreement among ocean carriers seeking to operate a land-based chassis business in which they would jointly participate, manage, and interact with nonregulated entities. These comments reiterated the Division's long-standing position that the general antitrust exemption for international ocean shipping carrier agreements is no longer justified.
Filing amicus briefs in significant antitrust cases is another important element of the Division's competition advocacy program. In the past year, the Division has filed briefs in a number of appellate cases involving antitrust issues, including in an important Third Circuit case addressing reverse-payment patent settlements and a Seventh Circuit case involving the scope of the Foreign Trade Antitrust Improvements Act. Amicus briefs provide a valuable opportunity for the Division to offer courts the benefit of the Division's specialized knowledge and expertise. These briefs also contribute to the Division's transparency efforts by offering the business community and the antitrust bar an opportunity to better understand the Division's approach to important antitrust and competition issues.
Another of the Division's key advocacy tools is issuing detailed competitive impact statements with its consent decrees. These statements provide an excellent opportunity for the Division to illustrate its approach to antitrust analysis and to share a detailed explanation of its conclusions in specific cases. This type of transparency has many benefits, including elucidating the Division's competition analysis for the benefit of courts, the antitrust bar, and the broader public. Important matters in which the Division recently has filed detailed competitive impact statements include: acquisition of Sara Lee's North American Fresh Bakery business by Grupo Bimbo and BBU Inc.; VeriFone's acquisition of Hypercom; George's, Inc.'s acquisition of a Tyson Foods plant in Harrisonburg, Virginia; and Unilever's acquisition of Alberto-Culver.
The Division also provides transparency in certain cases through detailed closing statements which explain the reasoning and competition analysis that led the Division to close a particular investigation without further action. The Division has in the past year released closing statements in a number of significant matters, including a statement jointly addressing Google's acquisition of Motorola Mobility Holdings; acquisition of certain Nortel Networks patents by Apple, Microsoft, and Research in Motion; and Apple's acquisition of certain Novell patents. Other recent Division closing statements have addressed Google's acquisition of Admeld and Perdue's acquisition of Coleman Natural Foods.
The Division is committed to its robust competition advocacy program, which it believes is a critical component of its mission to protect and promote competition on behalf of American consumers. The Division will continue to work with Federal and State agencies, file comments and amicus briefs, issue detailed competitive impact and closing statements, and pursue other avenues for competition advocacy. The Division believes that these efforts will help increase awareness and understanding of important antitrust and competition issues and contribute to promoting healthy, competitive markets.
Updated July 21, 2015