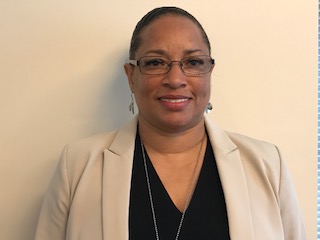 1. Employee Name: Cynthia
2. Current Title/position: HR Assistant
3. How long have you been with DOJ? 2 years 10 months
4. Prior experience before joining DOJ after you left the military: Recruiting for small Veteran owned business and Program Analyst for Defense Health Affairs Office
5. Branch of Service: USAF
6. Years of service: 23 years and 10 months
7. Education: MA in Human Resources
8. Rank held when you left the military: Master Sergeant (MSgt)
9. How did you find your current job? USA Jobs
10. How did your military service fit into your current career (assuming it did)? I am in a different career field but transferable skills are relevant.
11. How did you get your job – what background/education/experience is helpful? I had experience recruiting Military Flight Attendants and recruiting for a veteran owned business for positions located in Afghanistan.
12. How was your transition from military life to your civilian career? My transition has been interesting, I am still transitioning because I have not reach my goal yet of becoming an HR Specialist.
13. Do you continue to serve in the reserves, and if so, how has that worked in blending the military and civilian life? No, I am retired from active duty.
14. What made you decide to go into this field? I thought it would be an exciting change with many job options and I enjoy providing customer service.
15. Any advice for veterans who may want to choose your career field? If transitioning into a new career field, do your research to ensure a compatible fit with your skills and desires. Working in this career field requires an energetic and enthusiastic attitude, a little patience, understanding, and a passion for customer satisfaction.
16. What advice do you have for veterans who want to work for the Department of Justice? Be open-minded, flexible, open to new ways of doing business and be creative.
17. What are your best three transition tips for other veterans?
1. Utilize your leadership and mentor-ship skills you developed from your service.
2. Change your thought process from a military perspective to a civilian perspective- learn the rules of the game and play within the guidelines.
3. Learn the art of negotiation and bargain for equitable salary/benefits based on your knowledge, skills and experience. Find out your net worth.
Updated June 12, 2018