CRS Collaborates on Creation of DOJ Hate Crimes Website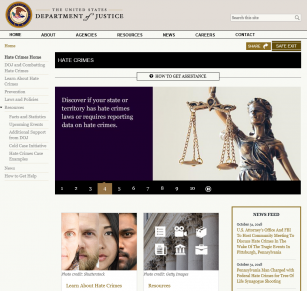 The Community Relations Service (CRS) collaborated with other components of the Department of Justice (DOJ) to develop the Hate Crimes Website, which officially launched on Monday, October 29, 2018.
The new website provides a centralized portal for the DOJ's hate crimes resources for victims, law enforcement, researchers, civil rights groups, media, and other related organizations and individuals. The resources include training materials, technical assistance, videos, research reports, statistics, and other helpful information from all the DOJ components working on hate crimes.
Combatting hate crimes is one of the Department's highest priorities. The Department combats hate crimes through prevention, education, outreach, data collection, and support for state, local, and tribal law enforcement. In addition to CRS, the DOJ components involved in the creation of the website are the Civil Rights Division, Criminal Division, Executive Office for United States Attorneys, Federal Bureau of Investigation, Office of Community Oriented Policing Services, and Office of Justice Programs.
We encourage you to visit the hate crimes website to learn more about how you can help prevent and respond to hate crimes in your community. For more information, please refer to the following DOJ press releases:
Justice Department Releases Update on Hate Crimes Prosecutions and Announces Launch of New Hate Crimes Website (October 29, 2018)
Deputy Attorney General Rod J. Rosenstein Delivers Remarks at a Law Enforcement Roundtable Regarding Improving Identification and Reporting of Hate Crimes (October 29, 2018)
Deputy Attorney General Rosenstein Announces Funds and Technical Assistance Resources to Help Law Enforcement Investigate and Prosecute Hate Crimes at Law Enforcement Roundtable (October 29, 2018)
CRS Presidential Management Fellow Spotlights
The U.S. Department of Justice Community Relations Service (CRS) is proud to have several Presidential Management Fellows (PMFs) who bring a wealth of skills and experience to helping further the CRS mission. A prestigious and highly competitive two-year fellowship, the PMF program places recent graduate degree recipients into federal positions to develop their leadership skills and bring fresh ideas and talent to public service.
The PMFs serving CRS come from a wide range of professional fields and backgrounds including law, social work, civil rights, housing, and the military. This group's breadth of experience is valuable to CRS's work helping to address conflict and tension in diverse communities across the country. Each of these talented individuals share their backgrounds, experiences, and why they chose to work with CRS.
Are you a current PMF interested in participating in a rotation at CRS? Please contact the PMF coordinator at crsinterncoordinator@usdoj.gov. You can also read more about the PMF program here.
CRS Presents Its Fiscal Year (FY) 2017 Annual Report
CRS is pleased to present its FY 2017 Annual Report, which highlights the agency's work helping to maintain peace in communities across the country. FY 2017 saw community conflicts and tensions throughout the country: from protests and counter-protests; to hate crimes and bias incidents in places of worship (including mosques, synagogues, gurdwaras, and temples) and against individuals based on their sexual orientation or gender identity; to bullying and crimes against students of color and persons with disabilities; to the race-based tensions that communities have faced since before the creation of CRS.  Clearly, the role CRS plays as "America's Peacemaker" is as important as ever.
The Annual Report can be accessed here: FY 2017 Annual Report (PDF). For a printed copy of this report, please contact CRS at askcrs@usdoj.gov.
CRS Lends Its Expertise to FEMA to Help Communities Recover from 2017 Hurricanes
In 2017, the Nation suffered three major, back-to-back hurricanes in the span of just four weeks. First, Hurricane Harvey hit parts of south Texas and Louisiana, followed closely by Hurricane Irma in the Florida Keys and other parts of South Florida, Georgia, and South Carolina. Soon after, Hurricane Maria struck Puerto Rico and the U.S. Virgin Islands. This was the first time in U.S. history that three category 4 or higher hurricanes made landfall during the same period, causing catastrophic damage. In the immediate aftermath of the hurricanes, the U.S. Department of Homeland Security's Federal Emergency Management Agency (FEMA) activated its Surge Capacity Force (SCF), a cadre of federal employee heroes who serve affected communities by supporting FEMA's urgent response and recovery efforts.
On September 30, 2017, Department of Justice (DOJ) Community Relations Service (CRS) Program Specialist Natalia Casella deployed with FEMA to the Glades region of South Florida to support communities affected by Hurricane Irma. There she served as an Intergovernmental Affairs Specialist and met with state officials, state legislators, county/parish officials, mayors, city managers, and city councils. In this capacity, Natalia provided disaster assistance to local governments by coordinating access to resources and facilitating communication between stakeholders and FEMA leads. As communities began to recover from the disaster, Natalia met with local government officials who identified rural areas in the Glades still in need of assistance.
In response, Natalia immediately directed FEMA teams to those areas and collaborated with local governments to conduct FEMA community outreach events in those areas traditionally underserved by the Federal government. In response to the support FEMA received from Natalia in South Florida, FEMA Federal Coordinating Officer, Willie G. Nunn said, "The DOJ surge team [Natalia Casella] brought a very positive can-do attitude and mission-critical skills to this disaster operation. They helped forge solid relationships with state and local officials, a vital function of Intergovernmental Affairs. The team also understood how important it was to act as our eyes and ears in hurricane-damaged areas. Through their interactions with local officials, we understood situations, needs and the concerns of residents. The DOJ team helped officials understand what assistance is available to begin their recovery. Our efforts in Florida were strengthened by the outstanding contributions of the DOJ team. We're more than grateful to know we can reach out to DOJ for support in future disaster operations."
DOJ CRS is proud to support FEMA in its critical work helping communities recover from an unprecedented hurricane season through the SCF program. This interagency effort is a powerful example of the Federal government working across agencies to marshal diverse talent and resources in support of communities with austere conditions in times of crisis.
Updated November 29, 2018