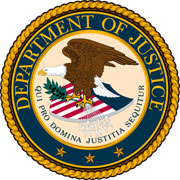 Department of Justice

Information Technology and People with Disabilities: The Current State of Federal Accessibility -- Presented by the Attorney General to the President, April 2000

Remarks of ATTORNEY GENERAL JANET RENO -- SECTION 508
FOSE 2000, Washington D.C. Convention Center, Washington, D.C., April 18, 2000
Overview
Section 508 (508 statute html, 508 statute pdf) requires that Federal agencies' electronic and information technology is accessible to people with disabilities, including employees and members of the public.
Section 508 establishes requirements for any electronic and information technology developed, maintained, procured, or used by the Federal government. The term "electronic and information technology" will be defined by the Access Board by February 2000; it is likely to include computers (such as hardware, software, and accessible data such as web pages), fax machines, information/transaction machines (such as ATM's and fare card machines), copiers, telephones, and other equipment used for transmitting, receiving, using, or storing information.
Section 508 exempts national security systems from its requirements.
On April 2, 1999, the Attorney General issued a memorandum to the heads of all Federal agencies advising them of the requirements of Section 508 and providing instructions for conducting self-evaluations of their electronic and information technology.
Attached to this memorandum was an information package which included a number of documents. Copies of these documents are available either in HTML (hypertext markup language) or .pdf (Adobe Acrobat portable document format).
Basics of the Self-Evaluation Process Required by Section 508
As the initial step for implementing Section 508, all Federal agencies and departments must report to the Attorney General by June 15, 1999, the extent to which their electronic and information technology is accessible to and usable by people with disabilities. The Attorney General will use these evaluations as the basis for a Report to the President by February 7, 2000. The information provided by Attorney General to assist in the self-evaluation process is available on this web site.
Instructions and documents for the 508 Self-Evaluation
Other Federal agencies that have important Section 508 roles.
Resources available for guidance on compliance with Section 508
Resource Guide in html format Resource Guide in pdf format

 
Frequently Asked Questions (FAQ)?
Other Questions? Contact the Department of Justice's Section 508 Coordinators:
e-mail: sec508.questions@usdoj.gov

voice mail: 202-305-8304
TTY mail: 202-353-8944
facsimile: (202) 307-1198

For persons with disabilities, all of the Department's documents referenced on this web site are available in alternate formats including large print, Braille, and audio cassette by contacting the Department's Section 508 Coordinators.


Index

Section 508 Statute

Self-Evaluation Instructions & Documents
last modified August 4, 2000
Updated August 6, 2015