On October 18. 2017, President Trump signed into law the Elder Abuse Prevention and Prosecution Act of 2017 (P.L. 115–70), identifying the need for data on elder abuse.  An elder abuse case has many stages from the incident through investigation (by adult protective services or law enforcement), prosecution, and trauma recovery.  Several federal agencies currently collect elder abuse data (including physical abuse, neglect, and financial exploitation) on an ongoing basis at different points in the process.  This page provides snapshots of elder abuse through the lens of four distinct federal data sets: 
The purpose and scope of each is described below. 
 
National Adult Mistreatment Report System (NAMRS)
NAMRS is a national, voluntary reporting system for state adult protective services (APS) programs that collects data on APS practices, policies, and the outcomes of investigations into the maltreatment of older adults and adults with disabilities, including physical abuse, self-neglect and financial exploitation.   Although it has been estimated that only one in twenty-four cases of elder abuse is reported to a state authority, NAMRS provides a helpful picture of elder abuse cases that are reported to authorities.  More information on NAMRS can be found at https://namrs.acl.gov/.
Although APS receives reports involving adults ages 18 and older with a disability, the charts and graphs below only reflect APS data for those ages 60 and older and excludes cases involving self-neglect.  The NAMRS data presented below were extracted from the National Adult Maltreatment Reporting System, Case Component data extracts, FFY 2019. Please note that 2019 is the fourth year states submitted data to NAMRS.

APS receives reports of elder abuse in each state, although not all reports are investigated for a variety of reasons, chief of among them, the report failed to meet eligibility criteria outlined in ach state's statute.  Of the 32 states submitting data, a total of 195,459 clients ages 60 and older received an APS investigation in 2019.

Although different terms are used by states, substantiation generally means the finding that the allegation of maltreatment is supported under state law and policy (see NAMRS Definitions of Code Values).  According to data from 30 states, 20.4% of APS investigations were substantiated, resulting in 37,623 victims ages 60 and older (a substantiated/confirmed allegation of elder abuse).

Of the 37,623 victims ages 60 and older, the age distribution across categories was fairly evenly distributed, although the age group least likely to be affected were those ages 70 to 74.

NAMRS race and ethnicity demographic data are based upon how the data are collected by U.S. Census Bureau. Of the 30 states reporting on client race (37,623 clients ages 60 and older), 58.5% were White.

NAMRS ethnicity demographic data are based upon how the data are collected by U.S. Census Bureau. Of ethnicity data submitted by 24 states, 4.5% of APS clients ages 60 and older were Hispanic, Latino/a, or Spanish.


Of the 30 states reporting client gender (37,623 clients ages 60 and older), 63.7% identified as female, 34.4% as male, and 2 persons identified as transgender.

Of the 30 states that submitted data on type of abuse committed against a person ages 60 and older, neglect comprised the highest percentage across types of elder abuse, followed by financial exploitation.

Of the 23 states reporting on perpetrator age, the distribution across age categories was fairly even (with the exception of "unknown" as APS typically is not required to capture perpetrator data).

Of the 27 states reporting on perpetrator gender, there were only slightly more female than male perpetrators.

Of the 26 states submitting data on perpetrator relationship to victims ages 60 and older, 60% had a kinship relationship with the victim.
 
National Incident-Based Reporting System (NIBRS)
Some reports involving elder abuse are made directly to law enforcement. Law enforcement agencies participating in the NIBRS submit their state-level reports to NIBRS, a system maintained by the Federal Bureau of Investigation's Uniform Crime Report program.  NIBRS collects detailed data about crime incidents known to state and local law enforcement.  It is a voluntary system of reporting, and as of 2016, approximately 6,849 law enforcement agencies—37% of all agencies—reported data to the system.  As not all cases of elder abuse are determined to be a violation of state criminal statute, NIBRS data do not capture all incidents of elder abuse. However, but the data are nevertheless useful in reflecting those cases that are recorded by law enforcement.   
NIBRS data can be used to describe the nature of criminal incidents recorded by law enforcement, including elder abuse, and how the attributes of these events relate to their response and incident outcomes. NIBRS data can also be used to describe criminal victimization in local communities and support law enforcement efforts to implement evidence-based strategies to prevent crime and improve public safety.

 

Older adults are less likely to be a crime victim compared to younger age categories, with the exception of youth ages 17 and younger.
 

Among older adults, the most serious crime involves larceny (theft of personal property), followed by other property crimes and vandalism.
 

Older adults are more likely to experience simple assault compared to serious nonsexual violence and sexual violence.
 

Older adults are most likely to experience crime victimization where they live.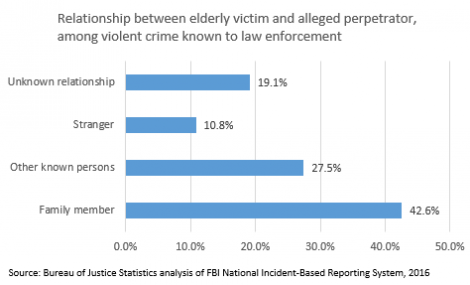 Older crime victims are most likely to be related to the perpetrator or to know the perpetrator compared to the perpetrator being a stranger.
 
Just under half of older victims of violent crime were injured as a result of the violence. Most of those injuries were minor. Around 1% of all violence against older persons resulted in the death of the victim.
Federal Trade Commission's (FTC) Consumer Sentinel Network (Sentinel) 
The FTC receives reports from consumers about problems they experience in the marketplace, as well as reports from local, state and federal law enforcement.  Reporting to Sentinel is voluntary and data in the reports is unverified, and therefore should not be treated as a survey.
The reports are stored in Sentinel, a secure online database available only to law enforcement for use in identifying and investigating fraud and other consumer problems. Each year the FTC releases a summary report on the data that provides analysis of current consumer report trends in the nation.  During 2017, Sentinel received nearly 2.7 million consumer reports.  Of the 1,138,306 total fraud reports in 2017, 49% included consumer age information.  (Consumer Sentinel Data Book 2017).
The following information is extracted from, Protecting Older Consumers – 2017-2018, A Report of the Federal Trade Commission, which analyzed the reports received from older consumers.
 

Consumers ages 60 and older filed reports at a higher rate than younger age groups.
 

When consumers ages 20-29 filed reports, they were more than twice as likely (40%) as consumers ages 60 and older (18-20%) to indicate a monetary loss.
 

Among consumers reporting a financial loss, the largest individual median losses were reported by people ages 60 and older.  Consumers ages 80 and older reported the largest median loss, a loss which was more than twice the median amount as consumers under age 60.
 

The 2017 reports to Sentinel show that seniors are more likely than younger people to report financial losses to certain types of schemes, such as technical support scams, prizes/sweepstakes/lottery scams, family and friend imposter frauds, and real estate and timeshare resale offers.  However, older adults were less likely than younger adults to report losing money to frauds such as shop-at-home/catalog sales, government imposters, and counterfeit check scams.  Younger and older consumers filed complaints about losing money to romance scams at about the same rate.
 

Telephone scams are a tremendous problem for all consumers. However, consumers ages 60 and older who indicated that they were contacted by telephone reported approximately twice the median loss compared to their younger counterparts.

Older consumers (ages 60 and older) most often reported that their fraud involved the use of a credit card, followed by wire transfer. However, the highest aggregate dollar loss involved the use of wire transfer.
Elder Financial Exploitation (EFE) in Suspicious Activity Reports (SARs)
In 2011, the US Department of the Treasury's Financial Crimes Enforcement Network (FinCEN) published Advisory to Financial Institutions on Filing Suspicious Activity Reports Regarding Elder Financial Exploitation, encouraging financial institutions to submit Suspicious Activity Reports (SARs) when they suspect elder financial exploitation (EFE).  Covered by the federal Bank Secrecy Act, SARs are filed with FinCEN but access to SARs is extremely restricted under federal law.  SAR filing is mandatory when there is an aggregate loss of at least $5000 ($2000 for money services businesses) in addition to meeting other criteria; otherwise reporting is voluntary.  Since 2013, the SAR form has contained a checkbox indicating the offense involved EFE, although reporting of the exact age of the victim is not required.  
The 2011 report conveyed that financial institutions, may, but are not required to also place a report with a state entity such as adult protective services or law enforcement. Later, the Interagency Guidance on Privacy Laws and Reporting Financial Abuse of Older Adults (September 2013), clarified that reporting EFE to appropriate authorities does not, in general, violate the privacy provisions of the Gramm-Leach-Bliley Act.
Data from SARs provide another important window into the financial exploitation of older Americans.  A 2019 CFPB report analyzing EFE SARs from 2013 - 2017, Suspicious Activity Reports on Elder Financial Exploitation: Issues and Trends , finds the following:
SAR filings on elder financial exploitation quadrupled from 2013 to 2017
 


Although there are several complementary explanations, since 2013, there has been a relatively steady increase in the number of EFE SARs filed with FinCEN.
 
Filers reported a total of $1.7 billion in suspicious activities in 2017


This increase in the number of SARs is accompanied by an increase in the amount of money lost (real or attempted) by either the older adult or the SAR filer (financial institutions).  In 2014, losses (real and attempted) totaled $931 million whereas in 2017, losses (real and attempted) totaled $1.7 billion.

Note. Nearly 80% of SARs involved a real financial loss. In about 75 percent of EFE SARs, the targeted older adult lost money. In contrast, the filer (i.e. the financial institution) lost money in 9 percent of all EFE SARs.
 

Monetary losses were greater when the older adult knew the suspect
 

 

A financial loss to the older adult was slightly more likely to occur when the suspect was known (79%) compared to when the suspect was a stranger (75%). 

In addition, the average amount lost was greater when the older adult knew the suspect ($50,000) compared to when the suspect was a stranger ($17,000).  However, older adults on average lost by far the most when the suspect was a fiduciary ($83,600). 
 

More than half of EFE SARs involved a money transfer
 

The most common financial products used in the EFE were money transfers (52%), a checking or savings account (44%), and much less frequently, credit cards (9%).
 

Checking or savings accounts had the highest monetary losses
 


However, older adults lost on average the most when the transaction involved a checking or saving account ($48,000) compared to a money transfer ($32,800) or a credit card ($32,600).
 

EFE Lasts on Average 4 Months

The average length of the suspicious activities in EFE SARs is approximately four months (120 days).  The EFE lasts even longer when:
a joint account is involved (230 days)
a family member is the suspect (197 days)
the targeted person has diminished capacity (158 days)
the targeted person is 80 years old and older (134 days)
 7.  Less than one-third of EFE SARs indicated that the filer reported the suspicious activity to a local, state or federal authority
 
Of the entities that filed a SAR, only 28% indicated that they also placed a report with a state agency, most commonly adult protective services (23%) or law enforcement (7%).
Updated August 30, 2021