Overview
The federal government is constitutionally required to provide just compensation to landowners when acquiring real property.  Federal courts have generally found that just compensation is measured by the market value (paid in money) of the property at the time of the taking.  A court's determination of market value (and thus just compensation) often relies upon the testimony of independent professional real estate appraisers who provide expert opinions of market value on behalf of the litigants.  In complex cases, many additional independent professional experts such as geologists, hydrologists, zoning experts, soil scientists and engineers may also be required.  This section explains the role of Department of Justice review appraisers in ENRD's land acquisition cases.
The Appraisal Unit
The Appraisal Unit of the Land Acquisition Section provides technical review services and support to Department of Justice attorneys regarding real estate valuation issues. These highly credentialed appraisers are the only appraisers employed within the Department of Justice and as a result the unit provides a variety of services related to the types of litigation in which the Department is involved. In a typical year, the Appraisal Unit reviews about 350 to 400 appraisal reports. Reports reviewed range from fairly simple valuations of properties with an estimated value of less than ten thousand dollars to highly complex properties involving tens of millions of dollars in estimated value.
Appraisal Standards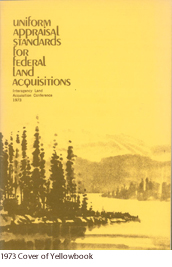 Appraisals and appraisal reviews prepared in support of the Division's litigation related to land acquisitions follow the standards described in the Uniform Appraisal Standards for Federal Land Acquisitions, commonly referred to as the Yellow Book.  These standards were developed and adopted by the Interagency Land Acquisition Conference (consisting of the land acquiring agencies of the federal government).  In addition to the standards established in the Yellow Book, appraisers follow the Uniform Standards of Professional Appraisal Practice, developed and adopted by the Appraisal Foundation as the professional standards applicable to valuation assignments related to financial transactions in the United States.
Appraisal Reviews
The appraisal unit is responsible for preparing reviews of all appraisals completed for condemnation cases.  These appraisals may include the initial appraisal prepared for and approved by the acquiring agency for use in its negotiation efforts, additional appraisal reports prepared for the division's attorneys in support of the litigation, and appraisal reports prepared for the property owners and their attorneys.  The appraisal unit's role in these appraisal reviews extends beyond a standard technical review and involves an in depth analysis of the strengths and weaknesses of each appraisal report from the perspective of its use in litigation.
Updated December 30, 2016