WMRS | Marine Mammal Protection Act and Litigation Highlights
Navy Training Requirements
The Navy's need to conduct training exercises using mid- and low-frequency sonar has generated concern among environmental groups about the potential effects of active sonar on whales and other marine species. The Navy has been sued under the Marine Mammal Protection Act (MMPA) regarding its use of mid-frequency sonar world-wide, and both the Navy and National Marine Fisheries Service (NMFS) have been named in lawsuits challenging incidental take rules for SURTASS LFA (a low frequency sonar system).
Mid-frequency active sonar (1kHz-10kHz) is the Navy's primary tactical sonar and its main tool to combat the threat posed by the world-wide proliferation of ultra-quiet diesel submarines. In the wrong hands, these stealthy submarines are capable of inflicting serious damage on high value assets like aircraft carriers and amphibious assault ships and endangering the lives of thousands of sailors. The Navy carries mid-frequency sonar systems aboard its cruisers, destroyers, frigates, submarines, helicopters, and aircraft. The Navy uses low frequency sonar (100-500Hz) to improve its ability to detect ultra-quiet, potentially hostile submarines at longer ranges, thereby gaining valuable time to react and respond to the threat. The expertise required to operate these sonar systems is a perishable skill that must be maintained by regular training in real-world conditions. While classroom training and computer simulations are valuable for developing basic skills and are employed when feasible, they cannot adequately recreate the complexity of the real-world physical environment, nor do they develop the ship-wide and strike-group-wide teamwork necessary to execute modern, coordinated, integrated anti-submarine warfare.
Mitigation Measures to Reduce Potential Impacts to Marine Mammals
Beaked whales have been the primary species of interest for mid-frequency sonar because, at least under certain conditions, they appear to be most sensitive. By  contrast, large whales have received the most attention in the low frequency context because their hearing abilities and vocalizations tend to be concentrated in the low frequency range. The Navy and NMFS have developed an extensive set of mitigation measures to reduce potential impacts to marine mammals. Those potential impacts are expected to consist of short-term behavioral modifications that the MMPA classifies as "Level B" harassment.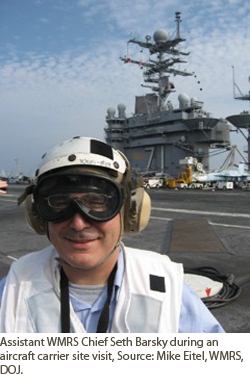 Recent Litigation
Litigation over low frequency sonar has touched on a wide variety of legal topics under the MMPA, including:
issues of statutory interpretation like the meaning of "small numbers" and "specified geographical region";
the sufficiency of mitigation and monitoring efforts;
the reasonableness of NMFS's findings that use of low frequency sonar will have no more than a "negligible impact" on marine mammal species and population stocks;
important scientific determinations, including:

establishing a decibel level threshold for potential injury
identifying the risk that sonar exposure at a particular decibel level will result in behavioral disturbance,
identifying how various types of marine mammals react to sonar exposure;
defining a sufficiently protective safety zone around a sonar-equipped vessel; and
designating certain critical marine mammal habitats as being off limits to low frequency sonar use, for most purposes.
In 2004, in partial response to litigation over the Navy's use of low frequency sonar, Congress amended the MMPA to add a provision specifically addressing incidental taking in the context of a "military readiness activity." The lawsuit challenging the Navy's use of mid-frequency sonar world-wide settled in 2008 after two years of jurisdictional discovery, following the Navy's filing of a motion seeking to dismiss the case.
Updated January 3, 2022