NRS | Federal Lands | Recreation and Preservation | Creation of the NPS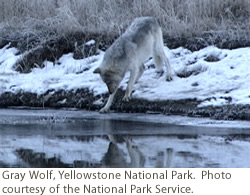 Many cases against the National Park Service, involve both the Organic Act and the National Environmental Policy Act (NEPA). In 1969, NEPA was enacted by Congress in order to have federal agencies evaluate the environmental consequences of significant actions before any action is taken. 42 U.S.C. §§ 4321,
et seq
. The purpose of NEPA is to focus the attention of the federal government and the public on a proposed action so that the consequences of the action can be studied through the consideration of alternatives which mitigate potential environmental impacts, before the action is implemented.
Marsh v. Oregon Natural Resources Council
, 490 U.S. 360, 371 (1989);
Florida Audubon Society v. Bentsen
, 94 F.3d 658, 669 (D.C. Cir. 1996). NEPA's mandate to the agencies is "essentially procedural . . . It is to insure a fully informed and well-considered decision . . . ."
Vermont Yankee Nuclear Power Corp. v. NRDC
, 435 U.S. 519, 558 (1978). The NEPA process requires that environmental information be available and subject to comment, review and analysis by both public officials and citizens prior to decisions being made on major federal proposals for action. 40 C.F.R. § 1500.1(b). The process is designed to "identify and assess the reasonable alternatives to proposed actions that will avoid or minimize adverse effects of these actions upon the quality of the human environment." 40 C.F.R. § 1500.2(e).
NEPA requires federal agencies to undertake a pre-action analysis in the form of an Environmental Impact Statement (EIS) of potential environmental impacts for "major Federal actions" that may "significantly affect" the quality of the human environment. 42 U.S.C. § 4332(2)(C). In order to determine whether an action is one requiring an EIS, an agency may prepare an Environmental Assessment (EA). 40 C.F.R. § 1501.4(b). An EA is a concise public document that should briefly describe the proposal, examine alternatives, consider environmental impacts, and provide a listing of individuals and agencies consulted. 40 C.F.R. § 1508.9. If a Finding of No Significant Impact (FONSI) on the environment is made after the matter is analyzed in an EA, then no EIS is required. 40 C.F.R. § 1501.4(e). See Anacostia Watershed Soc. v. Babbitt, 871 F. Supp. 475, 482 (D.D.C. 1994).
NEPA is one of the most frequently litigated statutes in the history of modern environmental law. In the context of litigation against the National Park Service, it has been used by interested stakeholder groups on all sides of various controversies as a tool to challenge management decisions on national park lands and wildlife refuges. Since 2000, NEPA cases involving the National Park Service include challenges to snowmobile, jet ski and off-road vehicle use in the national park system; the reintroduction of gray wolves in Yellowstone National Park; expanded cruise ship visits to Glacier Bay National Park; and regulation of firearms possession on national park lands.
Updated May 12, 2015