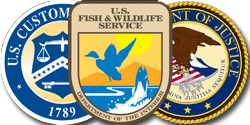 Operation Jungle Trade was a three-year undercover operation, which involved more than forty investigations, domestic and foreign, and resulted in the seizure of more than 660 endangered and protected birds and animals and the arrest and/or indictment of forty individuals who were major distributers and traffickers of exotic wildlife in the United States.
Operation Jungle Trade was worldwide in scope and uncovered the elaborate smuggling network which operated across the U.S./ Mexico border and sold the smuggled animals and birds in nine states as well as the Commonwealth of Puerto Rico and ten other countries including: Australia, South Africa, New Zealand, Brazil, Ghana, Egypt, Panama, Honduras, Belize, and Costa Rica.
The operation involved 42 Customs and Fish and Wildlife offices in the U.S., Customs Foreign Attache offices, and several foreign law enforcement agencies including the Australian Federal Police and Customs Service, the Royal Canadian Mounted Police, the New Zealand Customs Service and the Panamanian National Police.
Updated May 3, 2021