*/
Operation Renegade was an undercover investigation during 1989-92 that focused on cracking down on smuggling rings importing exotic birds, such as parrots and macaws, or their viable eggs into the United States and achieved some staggering results.  Twenty-five defendants were charged in federal courts in Texas and California and were convicted and sentenced on various wildlife-related crimes for a total of 387 months of imprisonment or confinement.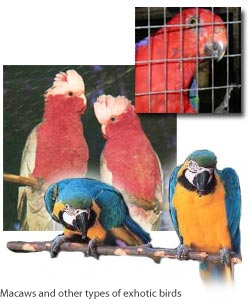 One prong of the investigation, prosecuted principally in the Central District of California, Los Angeles, focused on a cockatoo-egg smuggling ring operating between Australia and the United States.  Smugglers collected viable cockatoo eggs (fertilized eggs containing live embryos) from nest trees then smuggled them into the U.S. in home-made vests worn underneath their outer clothing.  The vests held up to 40 eggs in individual pockets next to the smuggler's body allowing the eggs to continue to incubate and even hatch during the flight to the U.S.  Offspring from eggs successfully smuggled and hatched were sold as if legally raised by breeders in the U.S.  More than 800 eggs worth more than $1.5 million were smuggled into the U.S. during the eight-year life of this smuggling ring.  Cockatoos are protected by U.S. and Australian law and collectors here paid up to $13,000 per bird depending upon the species.  The ringleader, William Wegner, of La Jolla, California, convicted in Los Angeles, was sentenced to serve a 5-year prison term. 
Another prong of the investigation focused on the illegal U.S. - Mexican border trade of parrots found in Mexico, Central and South America (so-called "New World" or "Amazon" parrots) for resale to aviculturists and bird wholesalers or retailers throughout the country. 
The parrot trade was highly regulated because exotic birds, including parrots, macaws, and cockatoos, are potential carriers of exotic Newcastle Disease, a dangerous avian disease for which there is no treatment or cure. Eradication of this fast-moving disease requires entire poultry flocks to be destroyed.  At the time of the convictions, American taxpayers had spent over $75 million to compensate U.S. poultry farmers whose flock had to be destroyed. Smuggling parrots and other psittacine birds into the U.S. to satisfy the demands of the pet trade poses a serious threat to wild populations, too, in their native habitats.  Consequently, for years all parrots and macaws (collectively called "psittacine birds") have been protected by trade restrictions imposed by the Convention on International Trade in Endangered Species of Wild Fauna and Flora (CITES), some individual species by listing as "endangered" or "threatened" under the Endangered Species Act, and some by trade bans or limits imposed by foreign countries on a country-b-country basis. 
During 1992, under the Wild Bird Conservation Act, Congress banned trade in virtually all wild, exotic birds, including psittacine birds, and, in response, the United States relinquished its role as the world's largest importer of exotic birds.  The U.S. trade in exotic birds today is limited to those species commonly bred by aviculturists in captivity and, as a result, has fallen sharply.

]]]]> //--> ]]]]> //-->
Updated April 13, 2015