Federal enforcement against those who violate wildlife protection laws dates back to 1900, when Congress passed the Lacey Act.  In the face of illegal hunting, particularly illegal commercial hunting, many game species in the United States were threatened with extinction.  Although states had regulations designed to protect wildlife from overhunting, those laws could not contend with the interstate commerce in wildlife that drove the trade in illegal wildlife.  The Lacey Act and subsequent federal wildlife statutes addressed that problem.  In particular, the Lacey Act makes it a federal crime to break the wildlife laws of any state, tribe, or foreign country, and then move or trade the wildlife across U.S. borders.
In the years since passage of the Lacey Act, the nation's wildlife protection statutes have taken on additional force and have been used to curb international trafficking in endangered and threatened species including: black coral, tigers, ginseng, tortoises, striped bass, and leopards.  Most recently, the Lacey Act has been expanded to address plant life, especially timber.
In contrast to pollution crimes, which are similar to white collar fraud cases in many ways, wildlife crimes are often similar to drug trafficking and other smuggling schemes.  Thus, wildlife investigators, particularly the special agents of the U.S. Fish and Wildlife Service and the National Oceanic and Atmospheric Administration, use techniques similar to those used in narcotics enforcement.  In particular, controlled deliveries of contraband wildlife, followed by anticipatory warrants, often result in overwhelming evidence against consumers of illegal wildlife.  With the evidence piled up against them, these defendants sometimes are willing to cooperate against their suppliers.  When suppliers are convicted, the government sees the greatest deterrent effect.  One of the great challenges for wildlife prosecutors is to work in the United States, where demand for illegal wildlife is highest, to shut down international suppliers.  Through training and law enforcement cooperation, ECS has been able to make inroads into source and transit countries.
Thus, federal criminal enforcement of laws protecting wildlife presents a serious deterrent to illegal conduct that augments state, tribal, and foreign wildlife management efforts. A wildlife case can include prosecution of both individual and organizational perpetrators; disgorgement of proceeds from illegal conduct such as smuggling; punishment that includes community service to help mitigate harm caused by the offense; forfeiture of wildlife and instrumentalities used to commit the offense; and sharing of forfeited property with local and international partners in enforcement.
The Environmental Crimes Section has a wide and varied wildlife prosecution caseload. The following are some recent examples.
Operation Crash
"Operation Crash" is an ongoing nationwide effort led by the U.S. Fish and Wildlife Service and ENRD in conjunction with U.S. Attorneys' offices, to investigate and prosecute those involved in the black market trade of rhinoceros horns and other protected species. (A"crash" is a herd of rhinoceroses.) All rhinoceros species are protected under U.S. and international law, and the black rhinoceros is listed as endangered under the ESA. Several major dealers in the illegal rhino horn trade were successfully prosecuted in 2014.
United States v. Li. Zhifei Li, the owner of Overseas Treasure Finding in Shandong, China, was in the business of selling raw rhino horns to factories where they would be carved into fake antiques and then resold. Horns that Li acquired were smuggled across international borders. The horns were hidden by a variety of means, including wrapping them in duct tape, hiding them in porcelain vases that were falsely described on customs and shipping documents, and labeling them as porcelain vases or handicrafts. The pieces leftover from the carving process were sold for alleged "medicinal" purposes. Li admitted that he was the "boss" of three antique dealers in the United States whom he paid to help obtain wildlife items and smuggle to him through Hong Kong. Rhino carvings valued at as much as $242,500 were sold to Li's customers in China. Shortly after arriving in the United States in January 2013, Li was arrested on federal charges brought in New Jersey. Prior to his arrest, he had purchased two endangered black rhinoceros horns from an undercover U.S. Fish and Wildlife Service agent in a Miami Beach hotel room for $59,000. Li pleaded guilty to conspiracy to smuggle and to violate the Lacey Act, six smuggling violations, one Lacey Act trafficking violation, and two counts of making false wildlife documents. Li admitted to being the organizer of an illegal wildlife smuggling conspiracy in which 30 raw rhinoceros horns (worth approximately $3 million) were smuggled from the United States to China. On May 27, 2014, Li was sentenced to serve 70 months' incarceration. He also will forfeit $3.5 million in proceeds from his criminal activity as well as several Asian artifacts.
United States v. Slattery. In 2010, Michael Slattery traveled from England to Texas to acquire black rhinoceros horns. Slattery and others used a day-laborer with a Texas driver's license as a straw buyer to purchase two horns from an auction house in Austin. The defendant and his co-conspirators then traveled to New York where they presented a fraudulent Endangered Species Act bill of sale and sold those two and two other rhino horns for $50,000. Slattery pleaded guilty to conspiracy to violate the Lacey Act. On January 10, 2014, he was sentenced to serve 14 months' incarceration, pay a $10,000 fine, and forfeit $50,000 of proceeds from his illegal trade in rhinoceros horns..
Protecting Fisheries
United States v. Wertz.  Charles Wertz was a Long Island, New York, fisherman who fished for fluke from a federally-licensed fishing vessel, the F/V Norseman, which he operated with his father. Wertz's father, a fish dealer and the holder of a federal fisheries dealer permit, owned and operated C&C Ocean Fishery LTD (C&C). Charles Wertz also worked as a C&C employee. NOAA regulations require that federally-licensed vessels, like the Norseman, file Fishing Vessel Trip Reports (FVTRs) with the federal government. The first person or entity to purchase fish from a federally-licensed fishing vessel, such as C&C, is called a fish dealer. Regulations require that fish dealers submit FVTRs to NOAA setting forth the type and amount of fish that they purchase. This information is used by NOAA in its ongoing effort to manage annual harvests in order to ensure that America's fisheries remain healthy and sustainable. Incorrect or missing data skews statistical catch models and can have a detrimental effect on the livelihood of the fishing community by disrupting the figures used by NOAA to allocate fishing quotas. Between May 2009 and December 2011, the defendants overharvested approximately 86,000 pounds of fluke with an estimated value of almost $200,000. In an effort to conceal their activities, they submitted falsified documentation to NOAA. Wertz and C&C pleaded guilty to wire fraud and falsification of records. On November 22, 2013, Wertz was sentenced to serve a year and a day of incarceration, pay a $5,000 fine and $99,800 in restitution, and to perform 100 hours of community service. The company was sentenced to pay a $275,000 fine and was held jointly and severally liable for the restitution. The court also ordered the defendants to relinquish their federal fishing permits, divest themselves of any interest in the F/V Norseman, and the dissolve the company.
United States v. Braley.  On June 26, 2014, David Braley and John Whitworth were sentenced for their involvement in the illegal harvesting of Gulf reef fish along the Alabama and northern Florida Gulf Coasts in 2012 and 2013. Braley was sentenced to serve a total of 63 months' incarceration; 30 months for a violation of the Lacey Act and a 63-month concurrent sentence for retaliation against a witness who had provided information in connection with the case. Specifically, Braley threatened physical violence against the witness through Facebook postings. Braley was further ordered to pay $3,700 in restitution to the owner of the vessel he used to illegally catch and sell the fish and $319 to the National Marine Fisheries Service (which is three percent of the $10,660 market value of his documented illegal catch). Whitworth was sentenced to complete a three-year term of probation and pay $14,050 in restitution. A total of eight defendants pleaded guilty to Lacey Act violations in connection with this illegal fishing scheme. James Martin, who participated with Braley and Whitworth, had earlier been sentenced to serve five months' incarceration, followed by five months' home confinement, as a special condition of three years' supervised release.
Safeguarding Protected Species
United States v. Robroy MacInnes.  Robroy MacInnes and Robert Keszey co-owned a well-known reptile dealership, Glades Herp Farm Inc., based in Florida. Keszey formerly hosted the Discovery Channel show "Swamp Brothers." From 2006 through 2008, they collected protected snakes from the wild in Pennsylvania and New Jersey, purchased protected eastern timber rattlesnakes (which had been unlawfully collected from the wild in violation of New York law), and transported threatened eastern indigo snakes and eastern timber rattlesnakes between Florida and Pennsylvania. The two were charged with Lacey Act violations and conspiracy. In November, 2013, MacInnes and Keszey were tried and found guilty of conspiracy to traffic in protected reptiles. MacInnes also was convicted of trafficking in protected timber rattlesnakes in violation of the Lacey Act. The evidence at trial showed that the snakes were destined for sale at reptile shows in Europe, where a single timber rattlesnake can sell for $800. Snakes that were not sold in Europe were sold through the defendants' business in the United States. The eastern indigos were intended for domestic sale, where a single snake may fetch $1,000. In addition to trafficking in illegal animals, the defendants attempted to persuade a witness not to provide the government with information regarding their illegal dealings. On December 5, 2014, MacInnes was sentenced to serve18 months' incarceration and to pay a $4,000 fine. Keszey was sentenced to serve 12 months' incarceration and pay a $2,000 fine.
United States v. Tubbs involved in the unlawful trafficking of paddlefish eggs. In 2007 and 2008, the fisherman Robbie D. Tubbs and others transported and sold in interstate commerce paddlefish eggs knowing that the eggs had been possessed and transported in violation of Oklahoma law. The eggs were sold to Tubbs who sold them to a wholesaler in Missouri to be made into caviar. On October 17, 2013, Tubbs was sentenced to serve six months' incarceration to pay a $500 fine. Tubbs previously pleaded guilty to a Lacey Act trafficking violation for his involvement in the illegal fishing and transportation of paddlefish eggs (caviar) across state lines. Paddlefish eggs have become more popular as traditional sturgeon caviar, such as Beluga, has become scarce. Paddlefish are shark-like plankton-eaters that can grow to weigh as much as 200 pounds, making them one of the largest freshwater fish.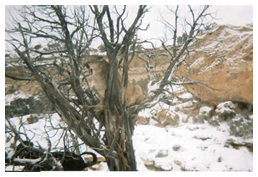 United States v. Christopher Loncarich. Christopher Loncarich outfitted and guided hunts for mountain lions and bobcats in the Book Cliffs Mountains, which span the Colorado-Utah border. The hunting season for these cats runs from November to March when snow is likely to be on the ground. Typically dogs are used to discover a cat's tracks in the snow. They follow the cat until they corner it, enabling the hunter to kill it. Between 2007 and 2010, Loncarich and his assistant guides trapped the cats in cages prior to hunts and released them when the client was nearby. They resorted to shooting the cats in the paws or legs or placing leghold traps on them to keep the cats from moving. Despite knowing that many of these hunters did not have proper tags or licenses to take the animals in Utah, the defendants helped them bring the cats back to Colorado and provided false seals for the hides. Loncarich sold mountain lion hunts for between $3,500 and $7,500 and bobcat hunts for between $700 and $1,500. Loncarich pleaded guilty to a Lacey Act conspiracy charge for illegally capturing and maiming mountain lions and bobcats and on November 20, 2014, he was sentenced to serve 27 months' incarceration and is banned from hunting or trapping any wildlife for three years following his release.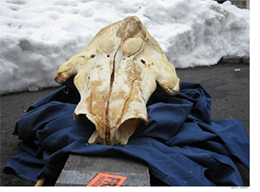 United States v. Andrew Zarauskas. Andrew Zarauskas purchased approximately 33 narwhal tusks over nearly six years from two Canadian co-defendants. The Canadian co-defendants purchased the narwhal tusks in Canada and brought them into the United States illegally by concealing them under their truck or under a utility trailer. Narwhals are listed as "threatened" under the Endangered Species Act (ESA) and are covered by the international Convention on International Trade in Endangered Species (CITES). It is illegal to import parts of the narwhal into the United States without a permit and without declaring the parts at the time of importation to U.S. Customs and Border Protection and the U.S. Fish and Wildlife Service. On February 14, 2014, a federal jury in Bangor, Maine, convicted Andrew Zarauskas for conspiracy, smuggling violations for buying and illegally importing narwhal tusks into the United States, and money laundering violations associated with the illegal importations. The market value of the teeth and tusks illegally imported by Zarauskas was between $120,000 and $200,000. Zarauskas was sentenced to 33 months in prison and ordered to forfeit $85,089, six narwhal tusks and one narwhal skull. In addition, Zarauskas was ordered to pay a fine of $7,500.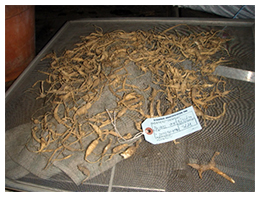 United States v. Duncan involved illegal harvesting and trafficking in American wild ginseng. American wild ginseng is a root that is valued in many cultures as a dietary supplement or a medicinal ingredient. This species has become increasingly rare, and as such, can fetch more than $1,000 a pound. The root can reproduce only once it has reached maturity, which takes several years. Illegal trafficking in the valuable root has become rampant. For this reason, the U.S. Fish and Wildlife Service embarked on Operation Native Root, an investigation into illegal ginseng trafficking in Indiana and Illinois. On April 4, 2014, Brett Duncan was sentenced after pleading guilty to a Lacey Act violation for illegally trafficking in ginseng. Duncan will pay a $15,000 fine and $55,000 in restitution to the National Fish and Wildlife Fund. He also will complete a two-year term of probation, perform 50 hours of community service, and forfeit approximately1,708 pounds of ginseng that were seized. Duncan, the owner of Duncan's Botanical Products, Inc., purchased approximately $54,000 worth of illegal ginseng between 2008 and 2010, and then sold it to an exporter in New York. This case was investigated by the U.S. Fish and Wildlife Service, the Indiana Department of Natural Resources, and the Illinois Department of Natural Resources.
Protecting Migratory Birds
On November 22, 2013, Duke Energy Renewables, Inc. (Duke Energy) was sentenced after pleading guilty to violating the Migratory Bird Treaty Act in connection with the deaths of protected birds, including golden eagles, at two of the company's wind projects in Wyoming. The company will pay fines, restitution, and community service totaling $1 million, complete a five-year term of probation, and spend an additional $600,000 each year during probation to implement and support an environmental compliance plan aimed at preventing bird deaths at the company's four commercial wind projects. The company also will be required to apply for an Eagle Take Permit from the U.S. Fish and Wildlife Service, which, if granted, will provide a framework for minimizing and mitigating the deaths of golden eagles at the wind projects. The charges stem from the deaths of 14 golden eagles and 149 other protected birds, including hawks, blackbirds, larks, wrens, and sparrows at two of the company's Wyoming wind project locations between 2009 and 2013. These two projects are comprised of 176 large wind turbines that sit on private agricultural land. Duke Energy failed to take all reasonable efforts to build the projects in a manner that would avoid the risk of avian deaths by collision with turbine blades, despite repeated warnings from officials. A $400,000 fine will be directed to the North American Wetlands Conservation Fund. The company also will pay $100,000 in restitution to the State of Wyoming, and make a $160,000 community service payment to the National Fish and Wildlife Foundation, designated for projects aimed at preserving golden eagles and increasing the understanding of ways to minimize and monitor interactions between eagles and commercial wind power facilities, as well as enhance eagle rehabilitation and conservation efforts in Wyoming. The company also will contribute $340,000 to a conservation fund for the purchase of land, or conservation easements on land, in Wyoming containing high-use golden eagle habitat, which will be preserved and managed for the benefit of that species.
Co-Chairing the Presidential Task Force on Wildlife Trafficking
Illegal trafficking in wildlife, plants and timber, and marine creatures has reached epidemic proportions. It is both a critical conservation concern and a threat to regional stability and global security. Because of this, on July 1, 2013, President Obama signed Executive Order 13648, establishing a new Presidential Task Force on Wildlife Trafficking. Since that time, the Division has represented the Department of Justice on this task force, which is co-chaired by the Attorney General and the Secretaries of State and the Interior, or their designees. The Task Force also includes senior-level representatives from 14 additional federal departments and agencies, including the Departments of Commerce, Treasury, Defense, Agriculture, and Homeland Security. The Executive Order recognizes that because wildlife trafficking is an escalating international crisis, it is in the national interest of the United States to increase efforts to combat wildlife trafficking. The Executive Order calls for a "whole-of-government" approach that will both strengthen anti-trafficking efforts already underway in ENRD and other federal agencies and elevate illegal wildlife trafficking as a priority for additional agencies whose missions include law enforcement, trade regulation, national security, international relations, and global development. In fiscal year 2014, ENRD worked in close coordination with the other Task Force agencies to draft the first-ever
National Strategy for Combating Wildlife Trafficking
, which was issued by the President on February 12, 2014. Since that time, ENRD has continued to work in close coordinate with other Task Force agencies to draft a national implementation plan for the strategy, which we expect to be issued by the President in February 2015.
Updated May 13, 2015