Protecting Ocean Fisheries: the Magnuson-Stevens Fishery Conservation and Management Act
With the enactment of the Fishery Conservation and Management Act in 1976, Congress established an Exclusive Economic Zone, from 3-200 miles seaward of the United States' shores. Prior to this Act, foreign fishing vessels could enter the waters off the United States up to 3 miles seaward and target fisheries also targeted by U.S. fishermen. The primary purpose of this Act, later re-named the Magnuson-Stevens Fishery Conservation and Management Act (Magnuson Act) was to reduce foreign exploitation of fisheries close to the United States' shores and to encourage the development of a domestic fishing industry.
Regional Fishery Management Councils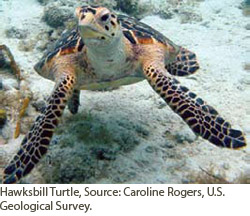 To achieve this goal, Congress established an unusual system for federal regulation of these offshore fishery resources - a system of regional fishery management councils comprised of stakeholders in the fishery. These councils recommend management actions to the National Marine Fisheries Service (NMFS) of the National Oceanic and Atmospheric Administration (NOAA) at the Commerce Department, for its approval and implementation. In the original Act, the councils were guided by a set of national standards set forth in the Magnuson Act which provided for the sometimes conflicting goals of fishery conservation and achievement of optimum yield from each United States fishery.
As the Magnuson Act was implemented, the domestic fishing industry supplanted foreign fishing and fishing pressure increased. Fishing in high-demand fisheries became very competitive, and much of fishery management in the early years under the Magnuson Act focused on the councils' efforts to find ways to fairly regulate fishing activity. The councils struggled with:
allocations between different types of vessels;
different methods and types of fishing gear; or even with
allocations between states for fisheries that overlapped several states' shores.
1980's and 1990's – Magnuson Act Litigation
The Wildlife and Marine Resources Section's Magnuson Act litigation in the 1980's and 1990's reflected this challenge. Cases focused on issues such as:
whether and how to count past participation in a fishery when setting fishing quotas;
how to allocate fish between highly efficient ocean-going catcher/processor fishing vessels and smaller, shore-based vessels;
how to balance fishing allocations with Indian treaty rights to fish;
whether particular short term changes in fishery management could be accomplished without notice and comment procedures;
the extent to which on-board monitoring systems were within the Act's authority;
interaction of commercial fishing vessels and species protected under the Endangered Species Act and the Marine Mammal Act; and
how to manage "bycatch" or incidental catch of these species or non-targeted fish species in fishing operations.
Saving Sea Turtles from Fishing Nets. Sea turtles, and other large marine animals, are particularly vulnerable to incidental capture from commercial fishing operations. To help protect these species, NOAA developed and mandated the use of Turtle Excluder Devices (TEDs) to allow large animals to escape from the bottom of a net while smaller species, like shrimp, are harvested. Because a portion of shrimp escape alongside the turtles, the State of Louisiana sued the Department of Commerce claiming the regulations mandating the TEDS were arbitrary and capricious but the 5th Court of Appeals disagreed. 1
As a result of implementation of the rule and successful litigation supporting its continued use, many more turtles have been saved from the nets of shrimp fishermen.
1996 – Sustainable Fisheries Act Amends Magnuson
Twenty years after the Magnuson Act was originally enacted, Congress faced a new challenge in fishery management. Many fisheries were weakened by too much fishing pressure, and management of some fisheries had become difficult because of interactions with protected species.
In 1996 Congress amended the Magnuson Act with the Sustainable Fisheries Act, which required the councils and NMFS to take steps to identify "overfished" fisheries and rebuild those fish populations, and to further minimize bycatch. In the years after these amendments, much of the Section's Magnuson Act litigation concerned these new provisions, with challenges to NMFS' assessment of whether or not a particular fishery was "overfished" and to the adequacy of plans to rebuild stocks.
2006 – Magnuson Act Amended Again
In 2006, Congress again amended the Magnuson Act, strengthening even further the directives to end overfishing, rebuild fisheries, and establish bycatch reduction programs. In particular, the amendments set time deadlines for the councils and NMFS to manage the fisheries to end overfishing and develop rebuilding plans.
________________________
1 Louisiana ex rel Guste v. Verity, 853 F. 2d 322 (5th Cir. 1988).
Updated May 15, 2015