*/
Central Industries involved Clean Water Act (CWA) violations by one of the nation's largest poultry rendering plants.  The company was owned by five chicken producers who shipped  their offal and blood to Central for processing.  Millions of pounds of slaughterhouse waste are converted weekly into marketable protein and fat by Central, resulting in 500,000 gallons a day of process wastewater being discharged into a tributary of the Pearl River, the drinking water supply for the city of Jackson, Mississippi.  From April through July 1995, the company committed approximately 1,114 permit violations, exceeding the pollutant limitations set forth in the company's permit by hundreds of percentage points and its permitted flow rate by millions of gallons. 
The company pleaded guilty in November 2000 to conspiracy to violate the CWA and 25 felony CWA violations.  It was ordered to pay a $13 million criminal fine, plus an additional $1 million in criminal restitution to be paid to the Mississippi Department of Environmental Quality for future environmental enforcement.  It also was ordered to publish a public apology.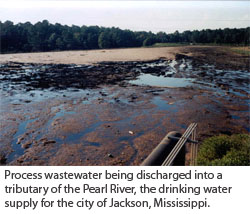 In addition, three of the company's officers, including its president, a vice president, and a board member, pled guilty to misdemeanor CWA charges and agreed to fines of $300,000, $50,000, and $100,000, respectively.  Sentences for the president and vice president included home confinement.  Central Industries' chief operating officer pled guilty to a CWA felony and paid a $25,000 fine.

*/
In the News
]]]]> //--> ]]]]> //-->
Updated April 13, 2015