Pesticide DDT in Southern California
From the late 1940s to the early 1970s, millions of pounds of the pesticide DDT were discharged from the Montrose Chemical Corporation's manufacturing plant in Torrance, California into ocean waters off the Southern California coast. Today there is over 100 tons of DDT in the contaminated sediment off the coast of Los Angeles, on a submarine area known as the Palos Verdes Shelf.
Various species of birds in the ocean off Southern California today continue to suffer elevated levels of DDT. Prior to the time Montrose began operations, there were at least 24 nesting pairs of Bald eagles on the Channel Islands, but they all disappeared by the 1950s. By the year 1990, the eagles on Catalina Island were still suffering total reproductive failure from DDT exposure. Peregrine falcons on the Channel Islands also have elevated levels of DDT and their eggshells are approximately 20% thinner than clean peregrine eggs. Certain fish are so contaminated that the State of California has banned some commercial fishing in the area.

Outcome of Superfund Enforcement Action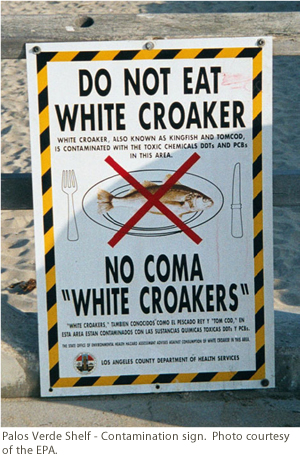 In 1990, the Environmental Enforcement Section (EES) filed a lawsuit under the federal Superfund law; the last of the claims were settled in 2001. A total of over $140 million was paid by the various defendants into interest-bearing escrow accounts, for use by the U.S. Environmental Protection Agency (EPA) and by the Montrose Settlements Restoration Program (MSRP).
EPA is using its share of the funds to address the footprint of contaminated sediments on the Palos Verdes shelf. In June 2009, EPA announced that it intends to implement a capping project, in which it will place clean sediment over the contaminated ocean floor, to isolate it from bio-availability. EPA is also implementing institutional controls to prevent consumption of contaminated fish. Learn more about marine contamination at EPA's site. 
The MSRP is using its funds to plan and implement the actions to restore the natural resources and services harmed by the releases of DDT off the coast of Southern California.
A portion of the MSRP funds have been used to re-introduce bald eagles to the northern Channel Islands, further away from the Palos Verdes shelf. These efforts have produced healthy chicks, and there is an Eagle Camera that watches the nests.
Updated December 22, 2020