U.S. v. Occidental Chemical Corp. (Love Canal) Text
History of Love Canal
 
 Time Period
 Event

Early
1890's

A doomed effort by William T. Love in the early 1890's to market direct current by constructing a canal from Niagara Falls.  However, with the perfection of commercially viable alternating current, Mr. Love's incomplete, mile-long excavation filled with water and was used by locals for swimming and ice-skating.

1920's

The Canal had degenerated into a landfill for municipal wastes.

1942

Hooker Chemical Company, which later purchased the Site from Niagara Power & Development Company in 1947, drained and lined the Canal with clay and disposed of industrial and chemical wastes there and other nearby locations

Early
1950's

Approximately 21,000 tons of chemicals, including caustics, alkalines, fatty acids and chlorinated hydrocarbons (dioxin) from the manufacture of dyes, perfumes, solvents for rubber and synthetic resins were buried to a depth of 20-25 feet in and around the Canal. (by 1952)

The population near Niagara Falls was growing so rapidly that Hooker was threatened with condemnation unless the property could be developed.  Hooker sold the Canal property to the local school board for a dollar with the caveat that it contained buried chemical wastes.

1954

Notwithstanding the warning, the 99th Street School was completed at site.

1957

The City of Niagara Falls constructed sewers at site for a mixture of low-income and single-family homes.

Late 50's

The LaSalle Expressway was constructed, limiting natural drainage into the Niagara River.

Residents began to report pools of oil and colored liquids in their yards and basements.

1968

Hooker was acquired by Occidental Petroleum Corporation in 1968 and was thereafter known as Occidental Chemical Corporation (OCC).

1970's

Lois Gibbs, president of the Love Canal Homeowner's Association, reported that her son and others were exhibiting medical problems she attributed to the Canal and agitated for government action.

August 7, 1978

President Jimmy Carter declared a federal health emergency and, perhaps for the first time, federal emergency funds were used to respond to a man-made problem, as opposed to a natural disaster.

December 20, 1979

Before the enactment of the Comprehensive Environmental Response, Compensation and Liability Act (CERCLA) -- which the furor over Love Canal helped make possible -- the Environmental Enforcement Section (then known as the Pollution Control Section) brought an action against OCC and affiliated companies under the Clean Water Act, the Rivers and Harbors Act and other authorities.  The pleadings were later amended to assert claims under CERCLA and the Resource Conservation and Recovery Act (RCRA), the nation's primary law regulating hazardous wastes.

May 19,1980

Two EPA representatives sent to Love Canal to explain health studies were briefly, but involuntarily, detained at the Love Canal Community Center.

May 21, 1980

President Carter signed a second, more extensive, federal emergency declaration.

Early 80's

Over 700 families were relocated and the school and many of the residences were demolished.

December 30, 1982

Love Canal, along with the Hooker 102nd Street, Hyde Park and S Area Sites in Niagara County, were all proposed for listing on the National Priorities List (NPL).

September 8, 1983

All four Love Canal Properties were included on the first NPL.

February 23, 1988

United States District Judge John Curtin, in response to a motion for summary judgment, found OCC jointly and severally liable for clean-up costs under CERCLA.

1995

OCC, which had agreed to take over implementation of the remedy during the pendency of the litigation, agreed to pay $129 million to reimburse EPA's clean-up costs and the Department of Defense, which was alleged to have disposed of wastes from nearby military facilities, contributed another $8 million towards the settlement.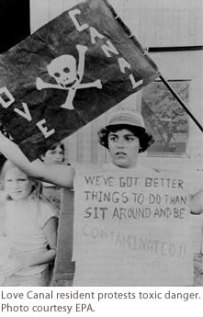 Updated May 18, 2015