Abandoned Oil Reclaiming Facility in Wyoming
In United States v. Valentine, the Environmental Enforcement Section (EES) and the U.S. Environmental Protection Agency (EPA) secured a clean up of an abandoned oil reclaiming facility near Glenrock, Wyoming, where very large pits filled with oily wastes killed birds and posed a threat to other wildlife. During its operations, the facility first known as Big Muddy Oil Processors, and later as Powder River Crude Processors, received, stored, and disposed of various oil wastes.
Enforcement Action
The case was brought under Section 7003 of RCRA, the imminent hazard authority of the Act, against several oil companies and an oil field contractor who had sent their oily wastes there, as well as the owners and former operators of the facility. At the site, there were large open pits filled with oily liquids and sludge, corroded and leaking tanks, oily seeps and pooled oil on the ground, and contaminated soil found to contain benzene and other contaminants that posed a variety of threats to wildlife.
Among the threats posed by the wastes, the shiny oil in the pits lured birds and other wildlife to the site, who can mistake such wastes for water. The birds and other wildlife can then become trapped in the wastes and die as a result of suffocation, or if they manage to escape, they can die or become sick as a result of exposure to the toxic contaminants. Oil transferred to eggs through the feathers of nesting birds can also kill the embryos. 
Outcome: 

The case was the first of its kind under RCRA and was especially notable because it confirmed the government's contention that RCRA can be used to deal with oily wastes that may otherwise escape control.
In addition to achieving a clean up of this site, and ensuring that it no longer posed threats to wildlife, the case established legal precedent that spurred action by other companies to clean up similar oil pits.
To read two of the key legal decisions issued in the case, view: United States v. Valentine, 856 F. Supp. 621 (D.Wy. 1994), and United States v. Valentine, 885 F. Supp. 1506 (D.Wy. 1995).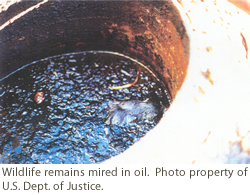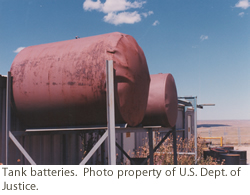 Updated May 14, 2015