*/

On May 30, 2003, a privately owned water diversion ditch in Rocky Mountain National Park failed, causing water to gush down a mountainside at more than 100 cubic feet per second.  The massive surge of water, mud, and rocks obliterated the mountainside beneath the ditch, ripped through an old growth spruce and fir forest, damaged the Lulu Creek and upper Colorado River, and filled the Lulu City wetlands with sediment.
On August 31, 2006, the Environmental Enforcement Section sued Water Supply and Storage Company (WSSC), the owner of the failed ditch. The Section sought damages under Park System Resource Protection Act ("PSRPA"), which allows the National Park Service to seek compensation for injuries to park resources. Specifically, the PSRPA allows the Park Service to obtain compensation for:
the cost of responding to an incident that damages park resources;
the cost of determining the nature and extent of the injuries; and
the costs of restoring injured or lost resources.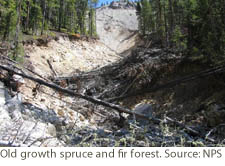 The Section has used the PSRPA to recover damages for injuries to important national parks, including Yellowstone, Biscayne, Everglades, and the Santa Monica Mountains National Recreation Area. The recoveries have provided funding to restore sea grass beds damaged by vessel groundings, reconstruct park buildings damaged by fire or collision, and re-vegetate other sensitive areas damaged by human activities.

Outcome: On May 5, 2008, the Justice Department announced a $9 million settlement with WSSC for the damages caused by the breach of the water diversion ditch, the largest natural resource damage payment in the history of the PSRPA. Park staff is using the settlement proceeds to remove sediment from alpine wetlands, re-establish stream channels, and where possible, restore natural contours.

In the News

Water Supply and Storage Company to Pay $9 Million for Damages to Rocky Mountain National Park. May 5, 2008
]]]]> //--> ]]]]> //-->
Updated April 13, 2015