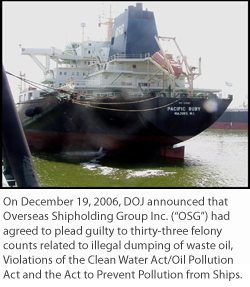 The Environmental Crimes Section (ECS) was intimately involved in the criminal prosecution of Exxon Shipping Company for 1989 discharge of 11 million gallons of crude oil from the
T/V Exxon Valdez
in Prince William Sound Alaska.  Virtually every member of the section worked on that prosecution which culminated in a $1.1 billion comprehensive criminal and civil settlement.  Since that time, ECS has been involved in other vessel casualty cases such the criminal prosecution stemming from the 1994 discharge of 750,000 gallons of oil from the Emily S tugboat and Morris J. Berman tank barge grounded off Escambron Beach, Puerto Rico, that, after trial, resulted in a total criminal fine of $25 million against Bunker Group Puerto Rico, Bunker Group, Inc. and New England Marine Services for a total criminal fine of $75 million. 
At the same time, ECS was focusing on the prosecution of individuals and corporations involved in deliberate pollution from ships, including oil and garbage, and the deliberate falsification of official ship records designed to conceal illegal pollution.  This focus has commonly been referred to as the Vessel Pollution Initiative. 
The United States is the leading country in enforcing MARPOL, a widely accepted maritime environmental treaty to which the United States is a party, but to which there is widespread non-compliance.  MARPOL was implemented in United States law by the Act to Prevent Pollution from Ships (APPS).  ECS has been actively involved training law enforcement officials in the United States and abroad as a result of its MARPOL enforcement. United States criminal prosecutions have resulted in cases against key segments of the commercial maritime industry, including cruise ships, container ships, oil and chemical tankers, and bulk cargo vessels.
ECS's vessel pollution prosecutions have honed prosecution theories developed in earlier cases and obtained results oriented toward obtaining greater deterrence.  Vessel cases have also involved coordination with multiple jurisdictions and with other countries.  Over the past ten years, the criminal penalties imposed in vessel pollution cases have totaled over $200,000,000 and responsible shipboard officers and shore-side officials have been sentenced to more than 17 years of incarceration.  The sentences have typically involved detailed and comprehensive maritime environmental compliance plans that have required equipment modifications to prevent and detect future discharges, outside independent audits, and a court-appointed monitor as a condition of probation.  The compliance terms in these cases have set new international standards and are being adopted by many companies and industry organizations. 
Vessel prosecutions have also addressed routine and intentional discharges which are a significant source of pollution – estimated to annually result in 8 times the amount from the Exxon Valdez oil spill and to kill hundreds of thousands of seabirds.  Many of these prosecutions have involved continuing discharges of large quantities of waste over an extended period and in some cases, from multiple vessels within a fleet.  In some cases, the defendants have been convicted more than once:  United States v. Ionia Management et al., (D. Conn., E.D.N.Y., S.D. Fla., D.V.I.) (prosecutions in 2007 and 2004); United States v. Boyang (Busan) Ltd. (D. Alaska) (prosecutions in 2005 and 2002); United States v. Royal Caribbean Cruises, Ltd.  (prosecutions in 1998 and 1999).  Some of the significant cases involving deliberate pollution from ships include:  United States v. Evergreen International, S.A. (C.D. Calif., D.N.J., D. Ore., D.S.C.,W.D. Wash.) ($25 million total penalty); United States v. The National Navigation Company (D. Ore., W.D. Wash., E.D. La.) ($7.25 million total penalty); United States v. MSC Ship Management et al., (D. MA) ($10.5 million total penalty); United States v. Ionia Management et al., (D. Conn.) ($4.9 million fine); United States v. Clipper Marine Services et al., (D.N.J.) ($4.75 million total penalty); United States v. Wallenius Ship Management, Pte., Ltd., et al. (D.N.J.) ($6.5 million penalty); United States v. Rick Stickle et al. (S.D. Fla.) (33 month sentence against Chairman of Sabine Transportation for conspiracy to dump 442 tons of oil contaminated grain, as well convictions of  other corporate officers and the Sabine Transportation Company); United States v. OMI et al. (D.N.J.) ($4.2 million fine).

]]> ]]>
Updated December 3, 2021