Organization Chart text version
In 1868, Congress gave the Attorney General the responsibility of representing the United States in all cases brought before the Court of Claims for any contract, agreement, or transaction with the executive departments, bureaus, or offices of executive departments. After the creation of the Department of Justice in 1870, a unit evolved within it that became known as the division for the defense of claims against the United States or the Courts of Claims Division.
The Attorney General created a new Claims Division in 1933 that consolidated responsibility for most of the litigating areas that comprise the present day Civil Division. In 1953, Attorney General Herbert Brownell, Jr., changed the name of the Claims Division to the Civil Division and broadened its responsibilities to include the litigation of the disbanded Customs Division.
In 1983, the Civil Division received additional responsibility for immigration and consumer protection litigation. With respect to its responsibility for consumer protection, the Civil Division litigates both criminal and civil actions under a number of federal statutes that are set out in 28 C.F.R. 0.45(j). In 1986, Congress enacted the National Childhood Vaccine Injury Act, and in 1990, it enacted the Radiation Exposure Compensation Act. The Attorney General delegated implementation of these programs to the Civil Division.
The Civil Division represents the United States in any civil or criminal matter within its scope of responsibility – protecting the United States Treasury, ensuring that the federal government speaks with one voice in its view of the law, preserving the intent of Congress, and advancing the credibility of the government before the courts.
The major functions of the Division are to:
Defend or assert the laws, programs, and policies of the United States, including defending new laws implementing the President's domestic and foreign agenda against constitutional challenges.
 
Recover monies owed to the United States and victims as the result of fraud, loan default, bankruptcy, injury, damage to federal property, violation of consumer laws, or unsatisfied judgments.
 
Defend the interests of the U.S. Treasury, prevailing against unwarranted monetary claims, while resolving fairly those claims with merit.
 
Fight terrorism through litigation to detain and remove alien terrorists; defend immigration laws and policies, including determinations to expel criminal aliens.
Enforce consumer protection laws and defend agency policies affecting public health and safety.
 
Defend the government and its officers and employees in lawsuits seeking damages from the U.S. Treasury or from individuals personally.
 
Implement compensation programs, such as the Childhood Vaccine, Radiation Exposure, and September 11th Victim Compensation programs; support viable alternatives to litigation when appropriate.
 
Represent the United States in foreign courts through foreign counsel supervised and instructed by attorney staff in Washington and London.
 
Represent the interests of the United States in civil and criminal litigation in foreign courts.
Civil Division Field Offices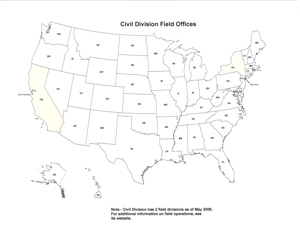 d
Click on map for larger version
Updated October 5, 2020