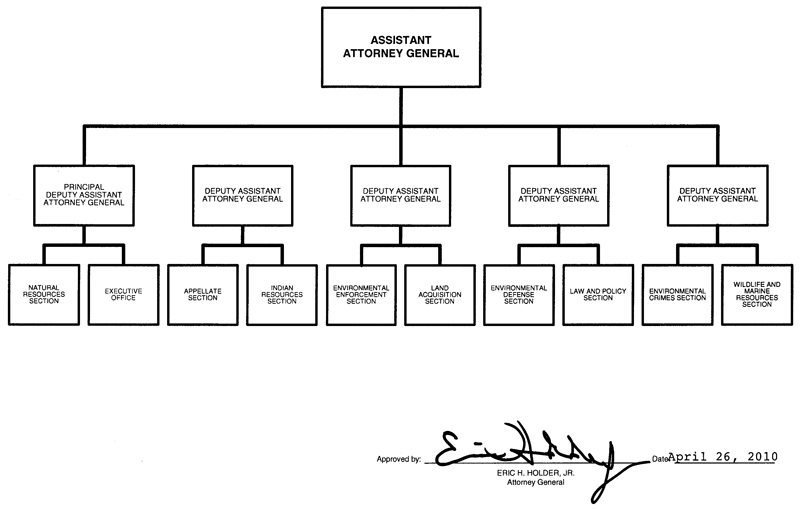 Organization Chart text version
The Public Lands Division of the Department of Justice was created on November 16, 1909, by Circular No. 114. It was given the name Lands Division on December 30, 1933, by Attorney General Order No. 2507, and was designated the Environment and Natural Resources Division in April 1990.
The mission of the Environment and Natural Resources Division is, through litigation in the federal and state courts, to safeguard and enhance the American environment; acquire and manage public lands and natural resources; and protect and manage Indian rights and property.
The major functions of the Division are to:
Conduct litigation under federal statutes enacted to protect the environment, require the cleanup of hazardous waste or recover the costs of cleanup, regulate air and water pollution, control dredging and filling in navigable waters, and control the use of pesticides.
 
Conduct litigation related to the control and abatement of pollution to the nation's air and water resources, and the regulation and control of toxic substances, pesticides, and solid wastes.
 
Prosecute criminal cases for violations of the criminal provisions of applicable federal environmental and wildlife statutes.
 
Conduct litigation concerning the management of the fisheries and other living resources of the coastal and marine environments, and the management of the coastal zone.
 
Conduct litigation under numerous federal statutes and laws involving public land matters on behalf of the Departments of the Interior, Agriculture, Defense, and others.
 
Conduct litigation under the National Environmental Policy Act, the Surface Mining Control and Reclamation Act, and the Tucker Act (principally in the United States Court of Federal Claims).
 
Prosecute eminent domain (condemnation) proceedings by which lands necessary for congressionally authorized public purposes are acquired on behalf of the United States, its agencies, and its departments.
 
Conduct civil litigation affecting the rights of Indians under treaties, acts of Congress, and Executive Orders in which the United States is acting as trustee on behalf of the Indians.
 
Defend the United States against monetary claims of tribes, bands, or other identifiable groups of American Indians, primarily before the United States Court of Federal Claims.
 
Conduct the Division's appellate litigation in federal circuit courts of appeals and state appellate tribunals and assist the Office of the Solicitor General with litigation of our cases or cases of concern in the Supreme Court.
 
Provide policy direction and legislative guidance for all programs in the Division.
 
Provide for management, direction, budget formulation and execution, ensure compliance with the Freedom of Information and Privacy Acts, and provide advice on applicable ethical responsibilities.
Environment and Natural Resources Division Field Offices
d
Click on map for larger version
Updated October 5, 2020