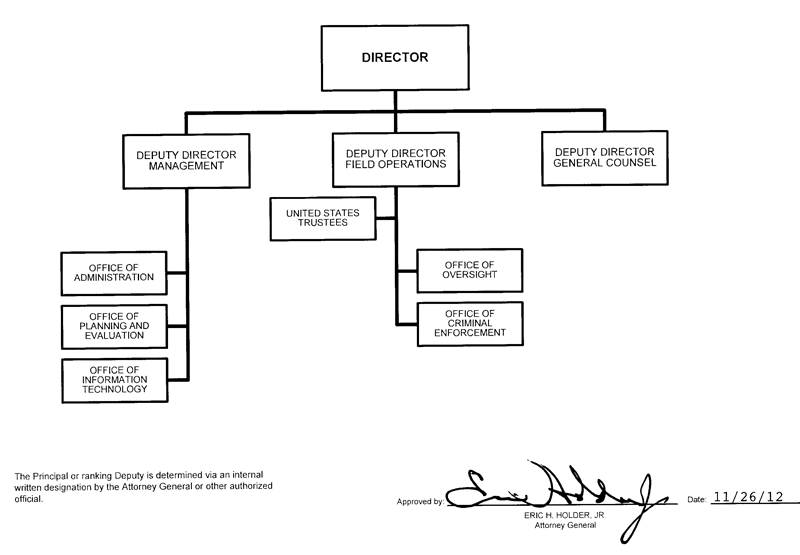 d
The Executive Office for United States Trustees (EOUST) was created to oversee the United States Trustee Program by providing policy guidance and coordination to United States Trustees, whose duties are set forth in Titles 11 and 28 of the United States Code.
The United States Trustees act in the public interest to protect and preserve the integrity of the bankruptcy system of the United States by regulating the conduct of parties; ensuring compliance with applicable laws and procedures; bringing civil actions to address instances of abuse; securing the just, speedy, and economical resolution of bankruptcy cases; and identifying, evaluating, referring, and supporting the prosecution of criminal bankruptcy violations.
The major functions of the EOUST are to:
Provide leadership, policy direction, management supervision, and coordination to the United States Trustees.
 
Evaluate the effectiveness of the operations of the United States Trustee Program.
 
Oversee United States Trustee litigation in bankruptcy cases.
 
Provide administrative support to United States Trustee Program field operations.
 
Coordinate the development of the Program's strategic plan and oversee the integration of budget and performance information.
 
Collect and disseminate data on the operations of the United States Trustees.
 
Coordinate with the United States Attorneys, the Federal Bureau of Investigation, and other agencies in securing bankruptcy fraud prosecutions.
 
Coordinate the development of a list of approved providers of credit counseling and debtor education courses.
Executive Office for United States Trustees Field Offices
d
Click on map for larger version
Updated September 9, 2014