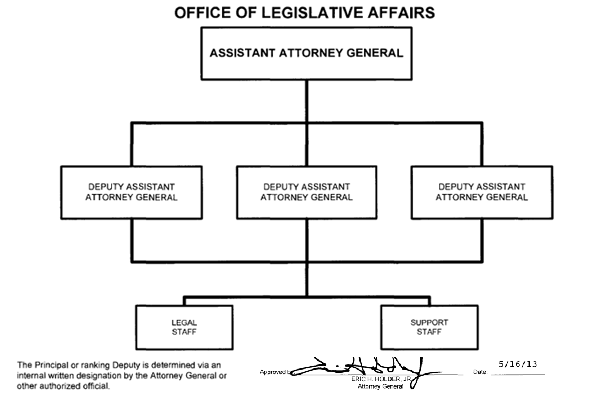 d
The Office of Legislative Affairs (OLA) was established in the Department of Justice on February 2, 1973, by Attorney General Order 504-73 to be the coordinating center for all Department of Justice activities relating to legislation and the Congress. The Office was subsequently reorganized into the Office of Legislative and Intergovernmental Affairs on January 24, 1984, by Attorney General Order No. 1054-84. Attorney General Order 1097-85 reestablished the Office of Legislative Affairs as an independent office on February 4, 1986.
The mission of OLA is to advise appropriate components of the Department on the development of the Department's official policies through legislation initiated by the Department, by other parts of the executive branch, or by Members of Congress, and to explain and advocate the Department's policies to the Congress. The Office also serves as the Attorney General's focal point for dealing with Department nominees, congressional oversight, congressional correspondence, and congressional requests for documents and access to Department employees.
The major functions of OLA are to:
Manage and direct all legislative functions between Congress and the Department.
 
Maintain liaison between the Department and Congress and serve as the Department's spokesperson with Congress.
 
Coordinate the Department's communications with Congress regarding legislation, oversight, requests for Department information, and Department nominations.
 
Consult with and advise the Department's leadership, including the Attorney General, the Deputy Attorney General and the Associate Attorney General, about policy considerations, legislation, oversight, nominations, and other matters relating to the Department's relationship with Congress.
 
Work to ensure a coordinated Department approach to Congress on legislative initiatives and other legislative matters, including through management of the OMB clearance process.
 
Supervise activities of the Department's Intergovernmental Liaison regarding communications with entities outside the Executive Branch, such as state and local law enforcement organizations and other outside groups.
Updated September 9, 2014