Last month, Attorney General William P. Barr was pleased to welcome a delegation from the European Commission for Competition to the Department of Justice. 
On March 29, 2019, Attorney General Barr met with Margrethe Vestager, the European Commissioner for Competition, for a brief discussion of competition issues in the United States and the European Union. 
The Attorney General was joined by Assistant Attorney General Makan Delrahim of the Department of Justice's Antitrust Division, and other senior leaders from the Division. Commissioner Vestager was joined by Johannes Laitenberger, Director General of the European Commission, and other senior leaders from the Commission. 
Earlier that day, Assistant Attorney General Delrahim, Commissioner Vestager, and FTC Chair Joseph Simons participated on the Enforcers Roundtable at this year's ABA Antitrust Section Spring Meeting. The roundtable covered a number of topics, including the United States' vertical merger guidelines, international cooperation, and general antitrust enforcement.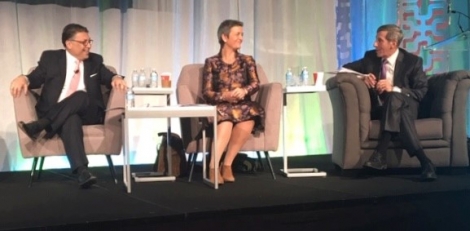 Each year, antitrust enforcers and practitioners from around the globe come Washington, D.C., for the annual Spring Meeting. The Antitrust Division sends a number of representatives to participate in a series of panels and roundtables, and also provides an update regarding the Division's recent activities and successes on civil and criminal enforcement, international cooperation, and competition advocacy.
To learn more about the Antitrust Division's recent activities, as well as profiles of Division leadership and staff, please visit https://www.justice.gov/atr/division-operations/division-update-spring-2019.
Updated April 12, 2019