The Iowa Tribe of Kansas and Nebraska, a community whose jurisdiction spans 12,000 acres and is patrolled by just six full-time and two part-time officers, recently purchased fingerprinting machines, laptops and automated external defibrillators for every patrol car in the tribal fleet.
The Muskogee Creek Nation, one of the largest tribes in the country, established a family violence prevention program staffed with sexual assault and youth advocates and equipped with a new civil legal assistance capability.
The Aleutian Pribilof Islands Association, Inc., a nonprofit organization that serves remote native villages in the Bering Sea, set up a victim assistance program and equips and trains Village Public Safety Officers to respond to victims in a way that minimizes further trauma.
And the Fort Peck Assiniboine and Sioux Tribes, two tribal nations of more than 7,000 residents in northeastern Montana, now have the benefit of a newly hired prosecutor, cross-deputized as a Special Assistant U.S. Attorney, to help reduce a backlog of over 4,000 federal and tribal cases, almost a third of them violent crimes.
These are just four of the hundreds of programs that have been funded through the Coordinated Tribal Assistance Solicitation, a Department of Justice resource reserved exclusively for American Indian and Alaska Native communities. In fiscal year 2019, the Department awarded 236 grants totaling more than $273 million to 149 separate tribes under CTAS, helping tribes improve public safety, hire tribal police officers, serve victims and youth and combat violence against women.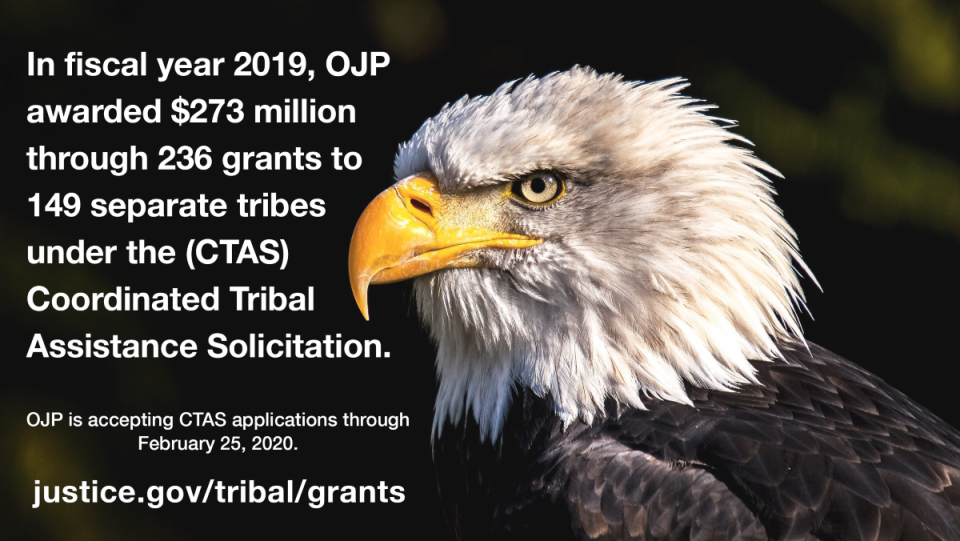 I'm very pleased that the Justice Department has just opened its latest CTAS solicitation, for fiscal year 2020, making good on Attorney General Barr's pledge to stand firmly with our tribal partners. His visit to Alaska at the end of May — where I had the opportunity to join him in conversations with Alaska native leaders — marked the beginning of a new era in the Department's support of Indian nations. Following our trip, he released $10 million in emergency funding to support rural Alaska law enforcement activities. We are building on the momentum of that visit by providing new and even greater public safety investments.
I'm proud that this year's solicitation streamlines the application process and reduces administrative requirements, making it easier than in past years for tribes to apply. One application is all that's needed to tap into eight programs administered by the Department's three grant-making offices — the Office of Justice Programs, the Office on Violence Against Women and the Office of Community Oriented Policing Services.
Supporting tribal public safety efforts is a fundamental part of the federal government's trust responsibility to tribes and one of the Attorney General's top priorities. A study by our National Institute of Justice found that four in five American Indian and Alaska Native adults have experienced violence in their lifetime, and more than 90 percent of native men and women have suffered violence at the hands of interracial perpetrators. The level of crime and abuse faced by native people is alarming and unacceptable. CTAS represents our unflagging commitment to helping tribal officials drive down violence, meet the needs of victims and restore peace and security to their communities.
We are accepting CTAS applications through February 25. Fact sheets and other relevant information regarding this year's CTAS can be found online at https://www.justice.gov/tribal/grants. The Department will also host a series of webinars to guide applicants through the CTAS application requirements. Details, including how to register, will be made available online in coming weeks at https://www.justice.gov/tribal/open-solicitations.
Updated December 12, 2019