Department of Justice
Office of Public Affairs
---
FOR IMMEDIATE RELEASE
Tuesday, September 10, 2019
Joint Statement by U.S. Attorney General William Barr and Minister of Justice of Georgia Thea Tsulukiani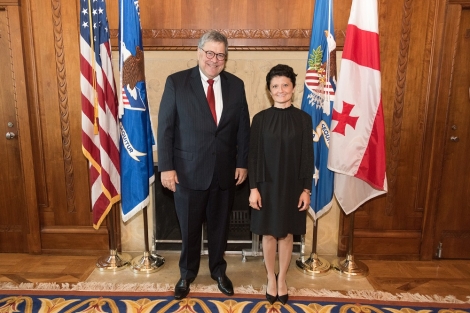 Credit: Department of Justice
On September 10, 2019, United States Attorney General William Barr met with Georgian Minister of Justice Thea Tsulukiani, to reaffirm the law enforcement partnership between the United States Department of Justice and the Ministry of Justice of Georgia.   
Both officials recognized that an independent judiciary, an effective criminal justice system and the protection of human rights, particularly those of the most vulnerable members of society, such as children, are fundamental to the rule of law and an accountable government and democracy.
Attorney General Barr noted the excellent level of cooperation between the United States and Georgia on extradition matters and mutual legal assistance. Minister Tsulukiani, in turn, expressed gratitude for the capacity building support provided by the United States Department of Justice, the Office of Overseas Prosecutorial Development, Assistance, and Training (OPDAT) and its Tbilisi-based Resident Legal Advisors (RLA), particularly in terms of legislative drafting advice and skills development training within the criminal justice sector.
The Attorney General and Minister of Justice committed to continue cooperation in support of Georgia's efforts to advance judicial reforms and further modernize the country's criminal justice system. In particular, they expressed an intent to explore opportunities for the Department of Justice to furnish expertise and assistance to the Ministry of Justice with its work to reform Georgia's penitentiary and probation systems with enhanced rehabilitation and resocialization services.
Updated September 10, 2019