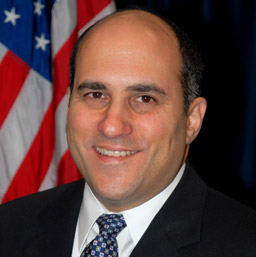 Robert A. Zauzmer was named Acting Pardon Attorney on February 1, 2016 and then appointed by the Attorney General as Pardon Attorney on Monday, September 26, 2016.  Mr. Zauzmer served as an Assistant United States Attorney and the Chief of Appeals in the U.S. Attorney's Office for the Eastern District of Pennsylvania, as well as being a key player in the Department's implementation of both the 2013 Smart on Crime initiative and the U.S. Sentencing Commission's retroactive sentence reductions.  The Office of the Pardon Attorney is responsible for reviewing and investigating applications to the President of the United States for executive clemency for federal criminal offenses, drafting the recommendation of the Deputy Attorney General to the President for the disposition of each clemency application, and advising Departmental leadership on matters related to executive clemency.
"Bob's long-standing commitment to criminal justice reform and his knack for devising and implementing the Department's sentencing reduction policies made him a natural choice to serve as Pardon Attorney," said Deputy Attorney General Sally Q. Yates.  "Bob also shares my unwavering dedication to the President's clemency initiative."
"As someone who has been part of the criminal justice system for more than 25 years, I have long been troubled by the imposition of disproportionately lengthy sentences, even as long as life imprisonment, that were imposed on low-level drug offenders on the basis of laws and policies that have since been changed," said Zauzmer.  "I have dedicated much of the past decade to assisting in the efforts to right some of those unfairly long sentences, and it is my profound honor to aid the President in using his clemency power to continue to restore the sense of proportionality and fairness that is at the heart of our justice system."
Zauzmer served as an Assistant United States Attorney since 1990, and acted as the chief appellate attorney for his district since 1998.  As part of his efforts on behalf of the Department, Zauzmer has testified multiple times before the U.S. Sentencing Commission on sentencing guideline issues, including the retroactive application of reductions in drug sentences.  He also trained federal prosecutors nationwide on how to apply retroactivity in a way that provides relief to eligible inmates in the most efficient manner possible.  From 2012 to 2014, Zauzmer served as a member of the Attorney General's Advisory Committee (AGAC), working closely with Attorney General Loretta E. Lynch and Deputy Attorney General Yates at a time that they served as chair and vice-chair, respectively, of the AGAC.
Updated October 5, 2016