The U.S. Attorney's Office for the Central District of California held a roundtable discussion On February 13, 2018 at Mount Saint Mary's University as part of a collaboration with the Justice Department Civil Rights Division to spread the word about options to help individuals experiencing sexual harassment within the seven districts that compose the Central District of California.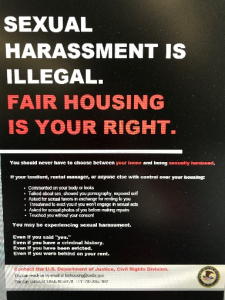 Organized by AUSA Joanna Hull, community organizations, such as legal services offices, fair housing organizations, shelters and transitional housing providers were in attendance and learned to identify the misconduct and recommend that individuals report sexual harassment to the Justice Department.
In 2017, the Justice Department recovered for harassment victims more than $1 million in damages. However, many instances of sexual harassment in housing continue to go unreported. Investigations frequently uncover sexual harassment that has been ongoing for years or decades and identify numerous victims who never reported the conduct to federal authorities.
The Justice Department encourages anyone who has experienced sexual harassment in housing, or knows someone who has, to contact the Civil Rights Division by calling (844) 380-6178 or emailing: fairhousing@usdoj.gov
The U.S. Attorney's Offices and the Department of Justice Civil Rights Division, enforces the Fair Housing Act, which prohibits discrimination in housing on the basis of race, color, religion, sex, familial status, national origin, and disability. Sexual harassment is a form of sex discrimination prohibited by the Act.
Sexual harassment by landlords, property managers, maintenance workers, and others with power over housing often affects the most vulnerable populations – single parents, individuals who have financial difficulties, and people who have suffered sexual violence in their past. These individuals often do not know where to turn for help.
Updated April 17, 2018