Press Release
United States Moves to Forfeit Antiquity from Time of Roman Empire that was Looted from Syria and Recovered from High Desert Home
For Immediate Release
U.S. Attorney's Office, Central District of California
          LOS ANGELES – The United States this week filed an asset forfeiture complaint against an ancient mosaic depicting Hercules, believed to have been made in the 3rd or 4th Century, that likely was looted from war-torn Syria, allegedly illegally imported into the United States, and seized by the Federal Bureau of Investigation (FBI) and Homeland Security Investigations (HSI) at a Palmdale residence.
          The mosaic, which is approximately 18 feet long and weighs approximately one ton, was seized by FBI and HSI special agents in March 2016 as part of an investigation into the "smuggling [of] looted items believed to be from a foreign conflict area into the United States."
          The complaint, which was filed Wednesday in United States District court under the caption United States v. One Ancient Mosiac, alleges that a Palmdale man smuggled the antiquity into the United States with false and fraudulent documents with the intent to avoid import duties.
          The complaint alleges that Mohamad Yassin Alcharihi further violated federal law by concealing the mosaic at his residence.
          After the mosaic was seized, an expert retained by the government concluded that that the artwork "was an authentic mosaic from the Byzantine Period depicting Roman mythology, and was consistent with the iconography of mosaics found in Syria, in particular in and around the city of Idlib, Syria." The complaint alleges that the mosaic was imported into the United States with paperwork indicating that it was part of a shipment of vases and mosaics worth only about $2,200, but Alcharihi later admitted paying $12,000 for the items. Preliminary estimated values for the mosaic at issue in this case are much higher, according to the complaint.
          The United States has adopted import restrictions on archaeological and ethnological material from Syria, according to the complaint, which quotes a statement from U.S. Customs and Border Protection stating: "[f]or decades, the United States has shared the international concern for the need to protect endangered cultural property. The appearance in the United States of stolen or illegally exported artifacts from other countries where there has been pillage has, on occasion, strained our foreign and cultural relations. This situation, combined with the concerns of museum, archaeological, and scholarly communities, was recognized by the President and Congress. It became apparent that it was in the national interest of the United States to join with other countries to suppress illegal trafficking of such objects in international commerce."
          The civil forfeiture case is being handled by Assistant United States Attorney Katharine Schonbachler of the Asset Forfeiture Section.
          The mosaic at issue in this case is approximately 18 feet in length, 8 feet in height, and weighs approximately 2,000 pounds. This photograph was taken by FBI after the mosaic was seized pursuant to a federal warrant: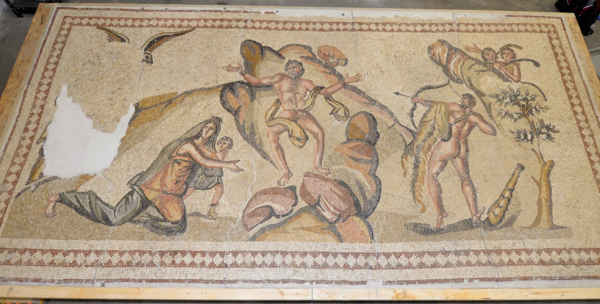 Contact
Thom Mrozek
Spokesperson/Public Affairs Officer
United States Attorney's Office
Central District of California (Los Angeles)
213-894-6947
Updated May 25, 2018
---
Press Release Number:
18-090