FBI New Haven's Indoor Post-Blast School – an intensive, week long course taught by expert bomb technicians and federal prosecutors – has taken place in Connecticut twice a year for the past eight years and has hosted, each time, approximately 60 federal, state and local law enforcement officials, bomb technicians, and other first responders who might respond to and investigate a bombing or other post-blast event. Until recently, Connecticut's post-blast school was the only indoor post-blast school in the country.

The first half of the week involves a classroom component that includes intensive instruction on explosive materials; improvised explosive devices; letter and package bombs; large vehicle bombs; suicide bombings; evidence collection; bombing investigations; WMDs, Chlorine, TATP and HMTD devices; and investigative techniques / post-blast analysis. As part of the classroom training, two Assistant United States Attorneys also review: (1) case studies highlighting the criminal charges that might be available in post-blast or bomb threat cases; (2) legal issues that may arise in post-blast investigations; and (3) investigative techniques available by working with a prosecutor's office to further a post-blast investigation.
The second half of the course involves a hands-on, practical component, which takes place, with the permission of state and local authorities, on the grounds of an abandoned state hospital in Norwich, Connecticut.
The practical component first includes an outdoor "range demonstration" – a detailed briefing demonstrating various explosive materials. During the range demonstration, students witness actual detonations of explosive materials in a field at the former Norwich State Hospital, a couple representative photos of which are below. Post-demonstration, the students venture out onto the range to observe and analyze how different explosive materials work and to process the post-blast scenes.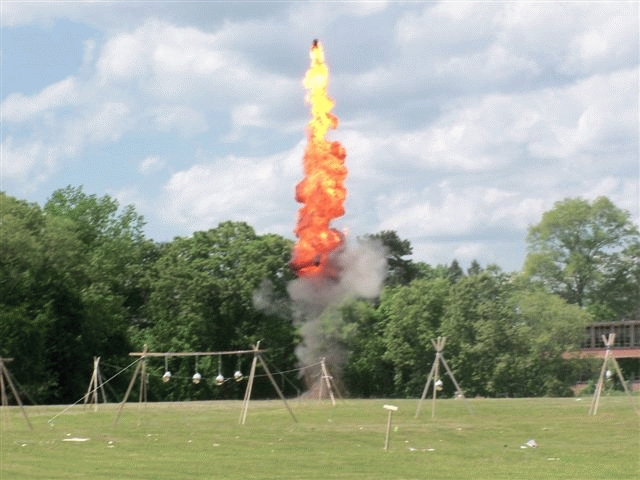 Updated March 18, 2015