3:07CR57 (MRK) (District of Connecticut)
Hassan Abu-Jihaad was an enlistee in the U.S. Navy who betrayed his shipmates and his country by leaking then-classified information about the upcoming movements of his battle group to an alleged terrorism support cell in London which, among other things, had operated then pre-eminent, world-wide jihadi websites under the name of "Azzam Publications" through a service provider located in the District of Connecticut. Abu-Jihaad was convicted of terrorism and espionage offenses at trial in the District of Connecticut in 2008 and, in 2009, he was sentenced to ten years.
In 2001, Abu-Jihaad was serving as a U.S. Navy signalman aboard the U.S.S. Benfold (pictured below) and had access to the future movements of his group of ships, led by the aircraft carrier the U.S.S. Constellation. Six months after the attack on the U.S.S. Cole, and before leaving home port in San Diego for a deployment in the Persian Gulf, Abu-Jihaad transmitted then-classified information about his battle group's itinerary, listing dates for anticipated port calls in Hawaii and Australia, and for the battle group's transit through the Strait of Hormuz. Abu-Jihaad's disclosure went on to discuss the battle group's perceived vulnerability to terrorist attack.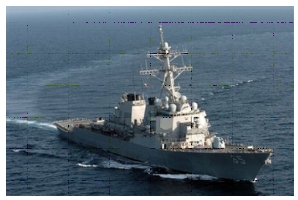 The leak did not come to light until well after Abu-Jihaad left the Navy, when an investigation into Azzam Publications led to the search of a London apartment associated with one of the website's organizers, and authorities found a floppy disk containing the U.S. Navy information.

Subsequent investigation uncovered several email exchanges from late 2000 to late 2001 between members of Azzam Publications and Abu-Jihaad, including discussions regarding videos Abu-Jihaad ordered from Azzam Publications that promoted violent jihad and extolled the virtues of martyrdom; a donation of money Abu-Jihaad made to Azzam Publications; and whether it was "safe" to send materials to Abu-Jihaad at his military address onboard the U.S.S. Benfold. In another email exchange with Azzam Publications, Abu-Jihaad described a recent force protection briefing given aboard his ship; voiced enmity toward America; praised Usama bin Laden and the mujahideen, praised the October 2000 attack on the U.S.S. Cole – which Abu-Jihaad described as a "martyrdom operation," – and advised the members of Azzam Publications that such tactics were working and taking their toll. A map from a power point introduced at trial, showing where Abu-Jihaad was located during these email communications with Azzam Publications, appears below. Abu-Jihaad's contact information was also found among the relatively few saved in an Azzam Publications online address book.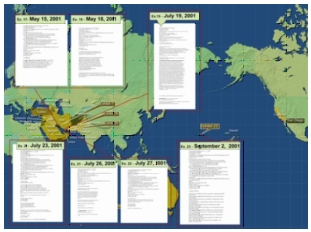 Navy documents and witnesses further established that as a Signalman in the Navigation Division of the U.S.S. Benfold during the 2001 deployment, Abu-Jihaad was part of a restricted circle of Navy personnel with access to the leaked information.
Further investigation into Abu-Jihaad's activities after he left the Navy revealed that he was still interested in potential attacks on U.S. military installations. During recorded conversations, Abu-Jihaad also used coded conversation to refer to jihad; admonished others not to speak openly about jihad over the phone or on the internet because they were "tapped"; and discussed having conversations with associates using a shredder and after frisking them for electronic components. During recorded conversations, Abu-Jihaad also spoke in code about his having previously provided intelligence about striking military targets while he was in the Navy.
On March 5, 2008, a jury convicted Abu-Jihaad of providing material support of terrorism as well as disclosing national defense information to persons not entitled to receive it. After extensive post-trial briefing, the district court upheld the espionage count, finding the evidence sufficient to conclude that the defendant had in fact leaked the classified information. Because the defendant had committed his offense prior to the expansion of the material-support statute, however, the judge felt constrained to set aside the material-support conviction based on his conclusion that a one-time leak of classified information was not then prohibited by that version of the statute.
On April 3, 2009, the judge sentenced Abu-Jihaad to the remaining statutory maximum of 10 years in prison.
In December 2010, Abu-Jihaad's conviction was upheld by the Court of Appeals for the Second Circuit, and in June 2011, the United States Supreme Court denied Abu-Jihaad's petition for certiorari.
Updated March 18, 2015