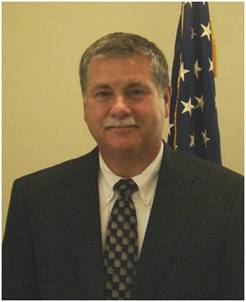 Kerry B. Harvey serves as the chief attorney in the U.S. Attorney's Office where he oversees nearly 100 employees located in Lexington, Fort Mitchell and London. Approximately 40 of those employees are attorneys and more than 50 serve support staff and administrative roles.
As U.S. Attorney, Harvey is responsible for leading an office that represents the interest of the United States by prosecuting violators of federal law in criminal cases and defending the U.S. in civil cases. The office litigates cases in the Eastern District of Kentucky, which includes 67 counties that stretch from Eastern Kentucky up to the northern part of the state near the Ohio border.
Harvey, a Kentucky native, brings more than 25 years of legal experience to the position.  For the two and half years before his arrival at the U.S. Attorney's Office, Harvey worked as the General Counsel for the Kentucky Cabinet of Health and Family Services in Frankfort, Ky. where he directed a team of 35 lawyers that litigated cases such as health care fraud.
In that role, Harvey also advised executive branch officials within the cabinet and officials with Governor Steve Beshear's General Counsel on legal matters that involved the cabinet (primarily health care and social service matters).  He was appointed General Counsel by Governor Beshear in February of 2008.
In addition to this role, Harvey also served as the Acting Inspector General for the cabinet for a six month period where he led efforts to prevent and detect fraud in various programs administered by the cabinet (i.e. health care).         
Prior to his work at the cabinet, Harvey worked as a partner in a private law firm in Benton, Ky. from 1991 until 2008.  Harvey spent much of his time litigating civil cases in which he defended banks, hospitals, local governments and local officials in federal court on alleged civil rights violations.
Harvey also served eight years as the Marshall County Attorney (1986-1994) while maintaining his private practice.   He prosecuted more than 50 jury trial cases during his tenure.
President Barack Obama nominated Harvey for the U.S. Attorney position in January of 2010.
Harvey earned his undergraduate degree from Murray State University in 1978 and graduated from the University of Kentucky's College of Law in 1982.  He was born in Madisonville, Ky. in 1957.
Updated February 19, 2015