Barbara L. McQuade, U.S. Attorney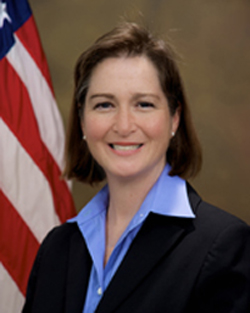 Barbara L. McQuade is the U.S. Attorney for the Eastern District of Michigan. She was appointed by President Barack Obama.
McQuade has sought to use the resources of the U.S. Attorney's Office to improve the quality of life for the people of Michigan.  Upon taking office in January 2010, McQuade restructured the office for the first time in more than 35 years to align attorney resources with the priorities of the district:  national security, violent crime, public corruption, civil rights and financial fraud, including mortgage fraud, health care fraud, and environmental crimes.
Significant case accomplishments during McQuade's tenure include the conviction of former Detroit Mayor Kwame Kilpatrick on public corruption charges, the conviction and life sentence of an Al-Qaeda operative for attempting to blow up an airliner over Detroit on Christmas Day in 2009, the conviction of a former Michigan Supreme Court Justice on mortgage fraud charges, and the convictions of former employees for stealing trade secrets from Detroit automakers.  McQuade also joined with other law enforcement leaders to launch Detroit One, a violence reduction strategy and community partnership.
McQuade serves on the Attorney General's Advisory Committee, and serves as co-chair of the Terrorism and National Security Subcommittee.  She also serves on subcommittees addressing civil rights and border security.
The first woman to serve as U.S. Attorney for the Eastern District of Michigan, McQuade was as an Assistant U.S. Attorney in Detroit for 12 years.  She served as Deputy Chief of the National Security Unit, where she prosecuted cases involving terrorism financing, foreign agents, export violations, and threats.  During her career as a federal prosecutor, McQuade has also prosecuted cases involving violent crime, fraud and racketeering.
From 2003 to 2009, McQuade served as an adjunct law professor at the University of Detroit Mercy School of Law, teaching criminal law in the evenings.
Before joining the U.S. Attorney's Office, McQuade practiced law at the firm of Butzel Long in Detroit, and served as a law clerk to Hon. Bernard A. Friedman on the U.S. District Court for the Eastern District of Michigan.
Born in Detroit, McQuade is a 1987 graduate of the University of Michigan and a 1991 graduate of the University of Michigan Law School.  She and her husband have four children.
Updated March 11, 2016